Printer-friendly version
Email this CRN article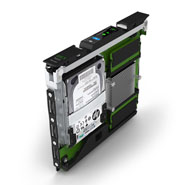 HP Moonshot ProLiant m300 server cartridge
Hewlett-Packard on Monday expanded its HP Moonshot server line with a new solution for efficiently running multiple hosted desktops.
The company also released two new modular server cartridges to the market based on new Atom and AMD processors, introduced a new upcoming module with eight digital signal processor cores, and unveiled new 15-cartridge starter packs to help customers and partners more easily start adopting the technology.
The new hosted desktop solution and starter packs, as well as new cartridges, show how far the HP Moonshot platform has grown since it was first introduced about two years ago, said John Gromala, senior director of hyperscale product marketing at HP.
[Related: HP CTO Lays Out HP's Vision For Future Computer Architecture]
"We're now at the point where we're taking the underlying capabilities of Moonshot and making it possible to grow quickly over time," Gromala said.
HP on Monday said that two of its Moonshot server cartridges are now available starting this week.
The first is the HP ProLiant m300, a server cartridge based on the Intel Intel Atom C2000 "Avoton" processor.
Each ProLiant m300 has an Atom Avoton processor with eight cores, a 500-GB hard drive, and 32 GBs of memory. They support the Microsoft Windows Server and other operating systems, are targeted mainly at web server applications, Gromala said.
HP also released its ProLiant m700 cartridges, which includes four AMD Opteron-based mini servers, each with an integrated 32-GB SSD and 8 GB of RAM. The result, Gromala said, is 180 servers in a 4.3-U chassis with a built-in 180-port switch and an option for a redundant switch.
The ProLiant m700 is the base on which HP has built its first application-specific Moonshot server.
That solution, the Converged System 100 for Hosted Desktops, combines 45 ProLiant m700 server cartridges with integrated graphics prepackaged to run 180 hosted desktops. It has a list price of $137,999, or well under $1,000 per hosted desktop, Gromala said.
The Converged System 100 for Hosted Desktops will meet some very important requirements for customers and solution providers looking for a virtual desktop infrastructure alternative, said Dan Molina, CTO at Nth Generation, a San Diego-based solution provider and longtime HP partner.
"It's very appealing to anyone looking for a hosted desktop solution," Molina said. "The virtual desktop business is growing, but VDI in general is not yet ready. But this system offers the right infrastructure."
NEXT: Understanding The Converged System 100 for Hosted Desktops
Printer-friendly version
Email this CRN article