Printer-friendly version
Email this CRN article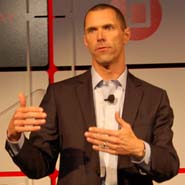 Jay Parker
Dell has snatched away another top enterprise veteran, this time hiring Lenovo Vice President Jay Parker, in a move partners said is yet another sign of Dell's increasing channel momentum.
"Dell is upping its channel IQ yet again," said Rory Sanchez, president and CEO of SLPowers, a Boca Raton, Fla.-based Dell partner, "Jay is a respected executive with a good reputation. I'm happy he is coming on board at Dell, which is now our No. 1 vendor and customer. As a Dell GEOPartner, they engage us to deliver Dell-branded services day in and day out."
Sanchez said his Dell services business is up 20 percent in the last year. "This is just another part of Dell's master plan," he said. "Dell convinced everybody they didn't need the channel, and now they have stolen the channel [from competitors]. That didn't happen by accident."
[Related: Head Of Lenovo's Enterprise Business Resigns]
Parker, who stepped down as vice president of Lenovo's enterprise business last week, will lead the U.S. channel charge for Dell as vice president and general manager, North America enterprise solutions.
Parker was senior vice president of Lenovo's enterprise business group for less than six months. Prior to that job, he spent three years as the company's North American president.
Parker was a marketing executive at Dell for more than a decade before jumping to Lenovo in 2007. He now replaces Curtis Hutcheson, a two-year Dell veteran who was tapped  five months ago to become vice president and general manager of Dell Security Solutions.
At Dell, Parker will be part of what solution providers are calling Dell Chief Commercial Officer and President of Enterprise Solutions Marius Haas' "enterprise channel dream team."
In March, Haas hired former Lenovo President and AMD CEO Rory Read as COO and president of worldwide commercial sales and enterprise, and former Cisco Chief Technology Officer Paul Perez, the driving force behind Cisco's Unified Compute System, as CTO of Dell's Enterprise Group.
Dell in June also added Tom Joyce, a six-year Hewlett-Packard veteran, as general manager for the system management and data protection business. Joyce joined 14-year HP veteran Jim Ganthier, former vice president of global marketing for HP Servers, who was hired as Dell vice president and general manager of engineered solutions and cloud in January.
"If you look at where Dell is investing, it is clearly in channel people, processes and programs," said Bob Venero, CEO of Holbrook, N.Y.-based solution provider Future Tech, No. 232 on the CRN 2015 Solution Provider 500. "Dell had a 100 percent direct DNA strategy eight years ago and has done a complete flip to a very robust channel-centric, focused company. That has never been done before."
Printer-friendly version
Email this CRN article