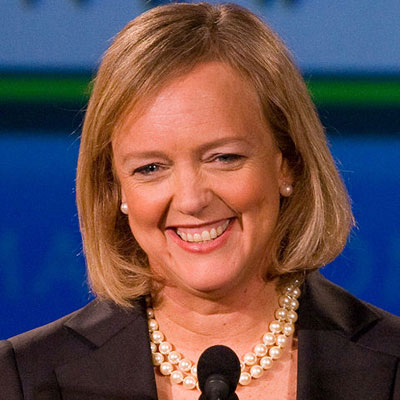 Printer-friendly version
Email this CRN article
Hewlett Packard Enterprise CEO Meg Whitman says the company's new "composable" Synergy architecture, which is aimed at leapfrogging converged infrastructure from the likes of Nutanix and Cisco, is the biggest breakthrough from the company in the last decade.
"This is as revolutionary a product as we have introduced probably in the last decade," said Whitman in an interview with CRN ahead of the public announcement which came Tuesday at the company's Discover Conference in London.  "It has been a little bit of a long time coming because back under one of my predecessors this didn't get the funding it should have from an R&D perspective. So we have been pouring money into this."
[Related Video: Inside HPE's New Class of Hybrid Architecture, 'Synergy']
Whitman says the new architecture, which has been in development for years in Hewlett Packard Enterprise Labs under the code name Thunderbird, "changes the name of the game" in the infrastructure market. "We have had this in beta with customers, and they are super-excited about it," she said.
The new unified architecture is being billed as the first ever designed to bridge traditional and cloud-native applications into fluid resource pools that can be deployed at "cloud speed." That could eliminate the big advantage that Amazon Web Services has had over internal IT departments that have struggled to provision workloads instantly like AWS can.
At the heart of the Synergy infrastructure, which will be available starting in the second quarter next year, is a set of open APIs that bring software intelligence to deploying workloads based on the business demands of the application. Hence the term "composable" infrastructure.
Solution providers, for their part, said the new infrastructure is sure to put pressure on hyperconverged stalwarts like Nutanix and infrastructure providers like Dell-EMC and Cisco which have yet to clearly lay out next-generation hyperconverged infrastructure road maps.
John Iacone, the founder and CEO of International Integrated Solutions (IIS), No. 121 on the 2015 CRN Solution Provider 500 and one of the most respected enterprise infrastructure providers in the country, called the new architecture a "game changer" that only one or two companies in the world could bring to the market.
"HP owns 99 percent of the technology in this composable infrastructure – all the hardware and software to make it happen," he said. "What you are talking about is redefining the data center to be a true utility: instantly building out infrastructure to run applications at different times and taking away infrastructure when it is not required and giving it to other applications that require it. This infrastructure knows and understands what the workload requirements are, and it is expandable or decomposable. If this works seamlessly it is going to be a huge breakthrough."
Iacone sees the new infrastructure giving a shot in the arm to infrastructure providers like IIS and even posing problems for AWS – which he sees as facing a backlash of sorts from customers who have seen their bills rise as they have put more workloads into the cloud. "We see customers looking to bring stuff back from the cloud and move more toward a hybrid model," said Iacone. "They started in the cloud with a few workloads and added over time to that, and are now seeing enormous bills. They have gone from thousands a month into hundreds of thousands of month, and they are locked into proprietary environments that they can't necessarily get out of easily. The beauty of the HPE composable infrastructure is applications become intelligent with regard to compute, storage and fabric requirements."
Printer-friendly version
Email this CRN article