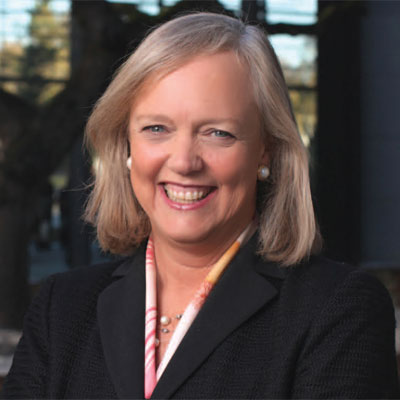 Printer-friendly version
Email this CRN article
Hewlett Packard Enterprise CEO Meg Whitman says HPE is set to unleash a "market-changing" new hyper-converged product that will be priced 20 percent below market leader Nutanix's product.
"Later this month, we will announce a new market-changing hyper-converged offering based on our industry-leading ProLiant virtualization server," said Whitman in a conference call with Wall Street analysts after HPE posted better-than-expected results in its first quarter as an independent company. "Our new solution will offer customers installation in minutes, a consumer-inspired, simple, mobile-ready user experience and automated IT operations, all at 20 percent lower cost than Nutanix."
Whitman says she expects the new product, which was developed internally by HPE engineers in record time, will open the door for HPE to be what she called a "leader" in the $5 billion fast-growth hyper-converged market.
[The 'Big Boys' Came To Play: HPE, Cisco Shake Up Hyper-Converged Landscape]
"We very much like this product from a side-by-side comparison in features and functionality to our competitors," she said. "I feel really good about it. I think it means that we can be a leader in this quite large and fast-growing part of the market."
Whitman said she is "excited" about the potential for growth from the new product. "The hyper-converged market is big," she said. "It is growing fast. It is also getting pretty crowded. You have seen a lot of announcements over the last couple of months."
HPE, which became an independent $53 billion company as of Nov. 1, is set to release the new product at the same time rival Cisco is getting into the game. This week, Cisco announced its own HyperFlex Systems product, calling it a more economical and better-performing alternative to Nutanix.
In an email response to the soon to be released HPE product, Nutanix President Sudheesh Nair said: "It's been an exciting two weeks, with the entire IT establishment turning their attention toward Nutanix while validating that hyperconverged infrastructure is the new reality of the datacenter. Winning the enterprise cloud market requires sustained innovation and commitment to customer value -- not just competing on price alone. Nutanix continues to raise the bar by going well beyond hyperconvergence."
HPE  solution providers, for their part, see the soon-to-be-released hyper-converged product as part of an innovation renaissance driven by deep R&D investments made by Whitman since she took the helm four and a half years ago.
"Our engineers see the next generation of HPE products leapfrogging the competition," said Kelly Ireland, founder and CEO of Orange, Calif.-based CB Technologies, an HP Platinum partner, No. 258 on the CRN 2015 Solution Provider 500. "We are super-exited about the new hyper-converged product. We are already working on specialized, highly engineered solutions for our top customers that would fit really nicely on a hyper-converged HPE system. We can't wait to get our hands on it."
The new hyper-converged infrastructure to which Whitman referred is likely a continuation of the company's CS-line based on its StoreVirtual software-defined storage solution, said one solution provider who requested to remain anonymous.
Printer-friendly version
Email this CRN article