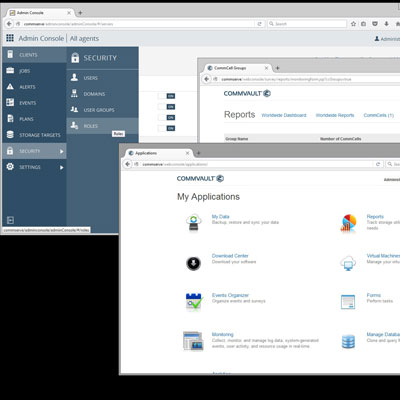 Printer-friendly version
Email this CRN article
Data protection and management system maker Commvault has integrated its Commvault Data Platform and IntelliSnap replication software with FlashStack, the converged infrastructure architecture jointly created by Cisco and Pure Storage.
The IntelliSnap integration adds a pre-engineered data protection component to the FlashStack environment, Commvault executives said in an interview with CRN. And it creates opportunities for solution providers in data center transformation.
"We see this as answering a need in the market place to really consider data protection as part of the modernization of [customers'] data centers," said Brian Allison, Commvault vice president of worldwide alliances, noting that FlashStack is being deployed as part of data center infrastructure upgrade projects.
[Related: Cisco, Pure Storage Expand FlashStack Converged Infrastructure Partnership With New CVDs]
"And it's an opportunity for partners," he said. "This becomes another key element they can use to sell data center transformation and modernization. They can get to market quicker [and] they can build a practice around it."
FlashStack is a converged infrastructure architecture jointly created by Pure Storage and Cisco that incorporates Pure's FlashArray flash storage systems and Cisco's Unified Computing System (UCS) servers. The architecture is designed to provide pre-engineered, pre-integrated servers, storage and networking systems that cut implementation time and costs.
Commvault's Intellisnap replication software is an application-aware system that automates and orchestrates the creation, retention and use of data "snapshots," simplifying data protection and recovery procedures. The company's software also integrates data protection and recovery processes by automating those workflows.
By integrating IntelliSnap with FlashStack, Commvault is making it easier for IT organizations and solution providers to add the data protection layer to the architecture for protecting mission-critical workload data, said Sunil Polepalli, Commvault's worldwide Cisco alliance director.
"We're also delivering efficiencies and cost savings," Polepalli said. By supporting FlashStack, Commvault is hoping to strengthen its competitive hand against rival Dell EMC and other competitors.
Commvault's message resonated with Ryan Sheehan, general manager of advanced solutions and services at solution provider SHI International. "Customers are shifting from traditional data protection point products in favor of modernized infrastructure solutions," he said in a statement. "Proven Commvault solutions for FlashStack creates additional opportunities for us to address mission-critical needs of our customers with confidence."
"Bringing industry leaders Commvault, Pure Storage and Cisco together, we are able to address organizations that need to protect data-intensive business critical applications [such as] Oracle, VMware, Microsoft SQL and Exchange, SAP HANA and others that are the lifeblood of their business," Sheehan said.
Polepalli said that analysis by Commvault concluded that incorporating data protection technologies and services into their FlashStack data center modernization offerings, partners could increase deal sizes by as much as 50 percent and boost profit margins by as much as 60 percent.
Printer-friendly version
Email this CRN article