Printer-friendly version
Email this CRN article
Virtual reality isn't just for gamers anymore.
Cisco Systems this week is launching its much-touted telepresence offering, a high-definition videoconferencing line that some channel partners said will change the way customers communicate, collaborate and do business.
More than just high-definition, the new Cisco offering crosses the line into telepresence, a videoconferencing paradigm that combines top-quality video and audio, large plasma screens, lighting and even office furniture to create a life-like videoconference that's nearly as good as meeting in person.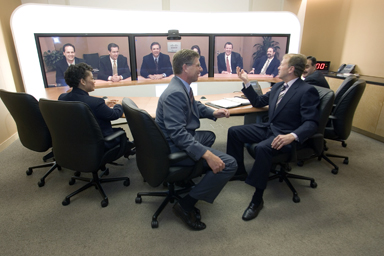 Slide Show: Cisco CEO John Chambers demonstrates
the Cisco TelePresence system for CRN
"It's the first time we've seen virtual reality in a normal business application," said Matt Horner, vice president of professional services at World Wide Technology, St. Louis, Mo., one of a handful of Cisco channel partners currently trained and authorized to deploy the products.
The hope is that the telepresence technology is essentially transparent, overcoming the distractions of choppy video and sound quality associated with traditional videoconferencing to create a realistic experience.
"[Traditional] videoconferencing just never delivered an experience that was anything close to telepresence. It's not integrated into the network, and it provides a poor audiovisual experience," said Jon Jensen, CEO of Nexus IS, a Valencia, Calif.-based Cisco partner. "It just doesn't deliver the human experience customers have been looking for."
For telepresence users, the image on the screen across from them appears life-size, clear enough to pick up the nuances of facial expressions and body language. The surround-sound audio comes from the direction of the person speaking.
Cisco isn't the only company that has seen the potential of such technology, which will cut down on the time and expense of travel, while improving productivity for customers. The vendor is, however, among the biggest names to enter the space and arguably the best positioned to provide a complete offering, with tie-ins to its IP network infrastructure, VoIP and unified communications portfolios.
Hewlett-Packard launched its telepresence line, Halo Collaboration Studio, in December 2005, in partnership with film company DreamWorks Animation SKG.
NEXT: Telepresence Moves Downstream
Printer-friendly version
Email this CRN article