Last year's irrational exuberance has run its course. Now, MSPs want real results like improved partner support and simplified products. Are vendors getting the message?
Printer-friendly version
Email this CRN article
Solution providers dropped big bucks on managed services products in 2006.
They spent the money because developing a proactive managed services business that bills customers on a regular basis can break the uncertain cycle of project-based work and build bases of long-term recurring revenue. But much of the money went right down the drain, lost on products and programs that were either overhyped or just plain unsuitable for the needs of solution providers.
Now, it's payoff time.
After losing many partners to competitors in 2006, MSP product vendors such as LPI Level Platforms, N-able Technologies, Zenith Infotech, Kaseya and SilverBack Technologies finally are investing in improved partner support, simplified products and sharper technical training. Distributors Ingram Micro and Bell Microproducts, which each introduced hosted MSP offerings in late 2006, are shelling out cash to ensure top-notch partner support. And smaller MSP product vendors that gained a foothold in 2006 see this year as a chance to lure MSPs looking for alternatives.
"This is the year for getting serious," said Laura Steward, founder and owner of Guardian Angel Computer Services, Norwalk, Conn.
Steward watched nearly $100,000 vanish along with countless unbillable engineering hours when in mid-2006 she hit the reset button, cut her losses and switched from an MSP platform comprising separate remote monitoring, security and storage products to a hosted all-in-one MSP platform from Zenith. The capabilities of some of the products she dumped had been oversold to her, she said, and others were poorly supported by their vendors. In the end, Steward came away with a firsthand account of the irrational exuberance that typified the 2006 MSP market.
"The market grew really fast, and that created headaches for everybody," Steward said. "But no money spent is bad money spent if you learn something."
Still, those lessons can be awfully expensive, as dozens of newly formed MSPs learned when they decided to switch vendors during the second half of 2006.
Vince Cirelli, technical manager at ACS Services, a veteran solution provider in Easton, Mass., but a fledgling MSP, struggled almost half the year trying to jump-start a $30,000 MSP platform from N-able. "We spent literally four to five months trying to get it installed on the very first server. We never got it installed."
Jim Millican, president of Ashton Technology Solutions, a solution provider in Cleveland, just laid out several thousand dollars for a new Microsoft platform, even though he's still paying off a contract to LPI until February. "I have an engineer with probably 1,500 hours dedicated just to making our LPI product work reliably, efficiently, and give us the info we need, and it still doesn't," he said.
Another Cleveland-based solution provider, Eric Clemens, CEO of Acroment Technologies, switched to an MSP product from Kaseya after practically losing his shirt trying to utilize a low-cost, hosted MSP platform from a vendor he'd rather not name. "I spent thousands of dollars on labor and time trying to develop our MSP offering, even though the cost of software was very low," he said.
The time has come for MSP vendors to get serious about making life easier for partners, and that effort has finally begun in earnest, said Peter Sandiford, CEO of LPI, Ottawa. "I think that all the products—and we hear this about everybody, even about ourselves—have been hard to use," he said. "They are just not that easy. So clearly there is an opportunity to make things even simpler, and you'll see us move in that direction."
Opening The Checkbook
Inexperienced tech support at Zenith drove Barry Monies crazy. The president and CEO of Computronix, Stamford, Conn., recalls constantly having to follow up to make sure the simplest tasks were completed. In one instance, Zenith struggled to perform an overnight data backup and finally ended up rebooting a customer's system as its employees walked into work. So Monies fired Zenith and moved to Kaseya.
Zenith, Warrendale, Pa., has housed most of its network operations center (NOC) in India, making it possible to deliver remote support for PCs, servers and storage devices at rock-bottom prices as low as $2.25 per PC per month, according to Zenith CEO Akash Saraf.
"But," Monies said, "there was a language problem between us and Zenith tech support, and there was little or no personalization. And in the end we spent more time checking their work than we would have had we done it ourselves."
Zenith has heard this complaint more than once and will now spend the money to address it, Saraf said. In January, it will cut the ribbon on a new help desk in Pittsburgh that will be staffed with native English-speaking support technicians and will cost MSPs who opt to use it only $16 per PC per month, Saraf said. "We knew it was a necessity," he said. The price tag for Zenith's new NOC: More than $250,000.
Ottawa-based N-able had a very profitable 2006, according to CEO Gavin Garbutt. Growth trends for 2006 for privately held N-able were record-setting; a healthy number of new partners came on board, taking the overall total to 1,100; and that partner base kept on buying bunches of additional licenses all year long, Garbutt said. But like its competitors, N-able had its share of unhappy partners. Recognizing this, N-able next month plans to go live with a project it has dedicated more than 60 employees to and invested six months in developing—the N-able Velocity Partner Center, he said.
The Velocity Partner Center will be aligned with N-able's flagship Velocity MSP products and give partners a way to find the information they need fast, fix technical problems quickly and better develop their business models, Garbutt said. A Partner Center for MSPs running N-able's hosted Momentum MSP platform already has been rolled out to a limited number of partners, and it goes into general availability within weeks, he said.
N-able and other MSP platform vendors had to spend the money now to dramatically improve support because the exhilaration of 2006 that made many partners so forgiving has run its course, said Brock McFarlane, president of Weston Technology Solutions, a Bend, Ore., MSP that runs N-able to manage customers' servers and Kaseya for the PCs.
"It's the traditional bell curve. First, you have a hot technology and everybody is talking about it, then it starts to level out in terms of what you can get away with as far as selling a product that may or may not fit a customer's needs fully," McFarlane said. "At that point, you need to differentiate yourself some other way than just saying, 'Hey, we're superior, we have a great tool, and here are the selling features of it. Take it or leave it.'"
Stubbornly maintaining such an inflexible posture is exactly what SilverBack did in 2006. Then in November, a deal to deliver a less expensive, hosted version of its product through distributor Bell Micro, San Jose, Calif., moved SilverBack to significantly lower its posh $76,500 price tag, said Jonathan Wolf, vice president of product marketing at SilverBack, Billerica, Mass.
The introduction of seven new pricing tiers—which start as low as $2,999—meant forking over money to expand its partner and technical support to accommodate more types of partners, Wolf said. In addition, SilverBack plans to return some of its healthy 2006 profits to partners through new technical and educational training courses, he said.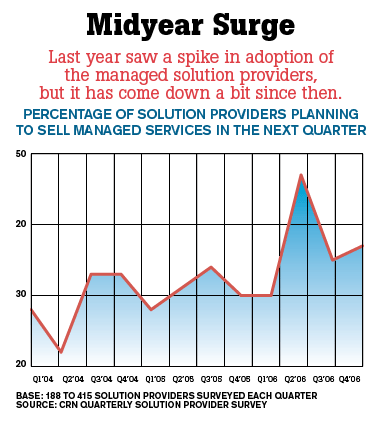 Also in the giving mood is Kaseya, which plans to spend more than $1 million on a new and uncharacteristic Managed Services Transformation program in 2007, said Dan Shapiro, vice president of marketing at Kaseya, San Francisco.
The program marks a significant departure from what many MSPs have called Kaseya's "Field of Dreams" approach. Kaseya has been a point-product vendor to the bone and not big on promoting the post-sale development of its partners into MSPs. But the new program aims to change that by delivering to partners MSP practice consulting, sales techniques and pricing models, Shapiro said.
LPI CEO Sandiford said sales of its Managed Workplace MSP platform climbed "exponentially" all through 2006. But many LPI partners were given a rough ride, particularly after LPI released version 5.0 of its software in April—an upgrade that for some partners created as many headaches as it relieved.
As 2007 begins, there is "very little tolerance" for substandard products and poor vendor support, Sandiford said. So LPI has directed one-third of its development team to do nothing but improve existing feature sets and technical support. Another $100,000 or so is being poured into improving LPI's partner portal and help desk, he said, adding, "We are now looking at everything that a partner does with us and saying, 'How can we make this simpler? How can we make it better?' "
Distribution Of Wealth
Partner satisfaction is paramount to LPI going into 2007 because this year it begins to indirectly compete against a version of its own product that will be offered by Ingram Micro as a hosted Software as a Service.
Ingram Micro's Seismic Platform is LPI software, and the distributor's plan is to take the burden of infrastructure support and licensing off MSPs' shoulders, said Justin Crotty, vice president of services for Ingram's North American Services Division, Santa Ana, Calif. "We have really put a lot of dollars into helping our VARs understand where they are going to skin their knees [as MSPs] and try and help them avoid some of that pain that a lot of the early adopters went through as they accelerated down this path," Crotty said.
Neither Ingram nor LPI said they are competing with one another because the former has a SaaS offering and the latter sells the software outright. But from a standpoint of who will offer superior service and support, Seismic does indeed make Ingram and LPI competitors, said Andrew Lawrence, president of Transparent Solutions, Richmond, British Columbia.
Because both Seismic and LPI are the same product at their code base, Lawrence will decide to stay with LPI or switch to Seismic based on who delivers better support, particularly after version 6.0 of LPI's code arrives in the first quarter, he said. Right now, LPI costs the same if bought from the vendor or though Ingram's offering, but that could change when Ingram puts a final price tag on it when the hosted version appears in a couple of months.
Bell Micro also is making a significant investment in partner and technical support services for its new SilverBack offering, said Garry Gammon, senior vice president of marketing at Bell Micro. The idea was to foot the cost of creating a hosted MSP platform so solution providers could avoid the expense of having to build an MSP platform in-house, he said. Beyond the technology platform, Bell Micro also spent money to develop MSP-specific marketing and sales support programs.
Then there's Microsoft. In late 2005, when managed services caught fire like dry brush, Microsoft Operations Manager (MOM) was too big and clunky an MSP platform to scale downward into the SMB sweet spot that solution providers-turned-MSPs were tapping. Enter Microsoft System Center Essentials 2007, a leaner, meaner version of MOM designed to compete squarely with popular SMB MSP platforms. Currently in its second beta, System Center Essentials 2007 is a multitenant IT monitoring and management platform that gives solution providers an arsenal of software, infrastructure, security and storage tools to deliver as managed services, said Jeff Johnson, president and CEO of ClearPointe Technology, a 13-year-old solution provider in Little Rock, Ark., which has been in business as an MSP for the past five years.
ClearPointe was enlisted by Microsoft to help develop System Center, he said. "The problem with MOM was, it was such a big solution that it was never an easy sell to the medium-sized much less the small-business server client. But now [Microsoft] takes all the best features of MOM and effectively delivers them to the SMBs. And there is nothing better to manage a Microsoft server than a Microsoft server management product," he said. "I think [Microsoft] is going to own the MSP industry."
Johnson may be right, said Ashton Technology's Millican. If System Center can make his MSP business pay off better than it has, Millican will cut checks to Microsoft for System Center, he said. Pricing has not been released, according to Microsoft. But Millican expects it to be "just affordable enough to reach."
Something New Entirely
Stephen Alexander, president of Third Eye Technologies, a 15-year-old Valley Cottage, N.Y., solution provider that opened a managed services business in 1995, uses an MSP platform from HandsFree Networks.
Who is HandsFree? A six-year-old vendor in Newton, Mass., that "has had the benefit of running under the radar," said company President Alex Donnini.
HandsFree and other vendors such as AdventNet and SecureMyCompany.com, are part of a growing number of upstart MSP vendors out to get partner service and support right the first time around. HandsFree's Linux-based software sits on an MSP's server, but the vendor remotely maintains the software as part of the cost of the product, Donnini said. Like Kaseya, HandsFree's No. 1 strength is multitenant network automation. In the first half of 2007, HandsFree will introduce improvements to its user interface, and enhanced executive-level reporting features, he said.
By coupling the low-cost, $2-per-device per-month cost of HandsFree with a professional services automation (PSA) system from AutoTask, Third Eye can offer MSP customers an affordable, all-you-can-eat service that rolls complete network monitoring, management and remediation into one low monthly payment, Alexander said.
Also posing a threat to larger vendors is SecureMyCompany.com, which by acting like a broker of MSP products enables solution providers to skirt minimum licensing requirements and enjoy the ease of use of a hosted solution, said company Vice President Frank Hughes. Based in Encino, Calif., the 18-month-old vendor offers Kaseya's platform, antivirus products from McAfee and messaging filters from Singlefin, he said.
Instead of an MSP having to purchase a minimum 100-license SKU from Kaseya, SecureMyCompany.com buys bulk licenses and then resells them to MSPs starting at $9.95 a license for between one and 49 licenses, or $6.47 per license for 500 and more, said Hughes. McAfee antivirus licenses can be bundled in for as low as $2.95 per license for 49 and less. Free 30-day trials are available, and there is no volume commitment or cancellation fee. A deal to resell individual licenses of another PSA tool from Connectwise is also in the works, Hughes said.
Dan Silva, owner of Vision Computer Services, a 16-year-old solution provider in Pampa, Texas, launched an MSP business several months ago and now uses SecureMyCompany.com. Vision looked at products from SilverBack and almost bought Kaseya's product outright, he said. But a trial run of SecureMyCompany.com convinced him otherwise. "It simplifies the management of the product. With them doing the hosting and maintaining the network and servers, it makes it a lot easier," Silva said.
Much was said in 2006 about business transformation being the critical component to becoming a successful MSP. But hindsight reveals that technical and support issues taught some of the most serious lessons to the managed services industry.
"What our customers expect from us, I expect from our vendors. That's what we learned," said Weston Technology Solutions' McFarlane.
Vendors appear to have gotten the message.
Printer-friendly version
Email this CRN article