Printer-friendly version
Email this CRN article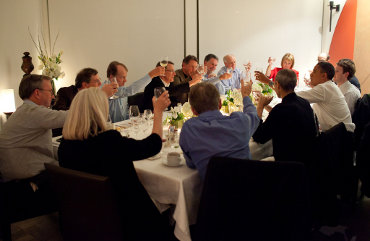 Apple
's Steve Jobs and other technology executives dine with President Barack Obama on Feb. 17, 2011
Apple CEO Steve Jobs' health is once again raising business issues, including the question of a succession plan, for the $65 billion company.
The National Enquirer this week caused a media frenzy with what it is calling "shocking photos" of a weak "cancer stricken" Jobs leaving Stanford Cancer Center - the same place where actor Patrick Swayze was treated before passing away in 2009. The report cited a medical expert -- who had not treated or seen Jobs -- who speculated that based on the photos, Jobs may have only six weeks to live.
Despite the National Enquirer's report, Jobs was one of a number of high tech CEOs, including Oracle CEO Larry Ellison, Google CEO Eric Schmidt and Facebook founder Mark Zuckerberg, who attended a dinner Thursday night with President Barack Obama. The White House even released a photo of the dinner that shows Jobs, with his back to the camera, sitting to the left of President Obama.
Still, concerns linger regarding the future of Apple. The questions surrounding the health of Jobs, who was treated for pancreatic cancer in 2004 and had a liver transplant in 2009, come only one month after the technology icon, who was the driving force behind the iPhone, the iPad and the iPod, took another medical leave of absence from Apple effective January 17.
Jeff Matthews, general partner Ram Partners LP, a Greenwich, Conn based hedge fund that holds a meaningful amount of Apple shares, says Jobs' health is an issue that investors need to pay attention to. "There is nothing good about this," says Matthews, whose fund has done signficant research on pancreatic cancer since Jobs was afflicted by the disease. "It is not fun to talk about, but as an investor in the real world you have to look at everything. Jobs is the reason that Apple is where it is. This is something you need to pay attention to and understand."
Jobs' latest medical leave is not surprising given the Apple CEO's medical history and the scientific data available regarding the form of pancreatic cancer that Jobs is battling, said Matthews.
What's more, Matthews said, if Jobs has lost a lot of weight it could be the result of medical treatments to battle a reoccurance of cancer. Jobs could be reacting to treatments aimed at destroying cancer cells, Matthews said. He said research data shows the eight-year survival rate may be as low as 22 percent for someone battling the type of pancreatic cancer for which Jobs was treated.
Jobs was first diagnosed with the disease in 2003. Fortune Magazine reported that Jobs learned he had a malignant tumor in his pancreas. The articles states that "The most common type of pancreatic cancer - adenocarcinoma - carries a life expectancy of about a year. Jobs was lucky; he had an extremely rare form called an islet cell neuroendocrine tumor that can be treated surgically, without radiation or chemotherapy."
Fortune also reported that Jobs "tried various alternative therapies for nine months before the tumor was taken out on July 31, 2004, at the Stanford University Medical Clinic in Palo Alto, near his home."
Matthews said he gives credit to Apple for being proactive on issuing a statement on Jobs most recent medical leave of absence effective January 17. "I think they have learned a lot," said Matthews regarding Apple's silence on Jobs' health when the Apple CEO first began battling pancreatic cancer in 2003.
NEXT: Apple's Succession Plan?
Printer-friendly version
Email this CRN article