Printer-friendly version
Email this CRN article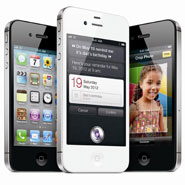 Apple
iPhone 4S
Apple's launch of iPhone 4S disappointed many Apple watchers because it wasn't called "iPhone 5," and it shipped with exactly the same form factor as iPhone 4.
But that's like saying you're disappointed because the new Ford Mustang you're getting looks the same as the old one, even though the new one has a much better engine, interior and more horse power.
iPhone 4S is a device that power smart phone users will like immensely and that will play a major role in altering how many use technology to guide us through the day. It's got more business-friendly features and functions than other new iPhones previously, and its dual-core processor enables a ton of uses that could just not happen before.
While Apple says the combination of iOS 5 and iPhone 4S will provide 200 new features, it's only important to focus on about a half-dozen for now. And the new digital valet feature, Siri, isn't even in the top two. (We'll get to Siri down further.)
First and foremost, Apple's new dual-core, A5 processor means iPhone 4S will be able to keep up those who use it. That means that toggling through contact lists, calendar, the Safari web browser and apps takes place in milliseconds, not seconds. That may seem like a picayune observation, but seconds can seem like an eternity when you've got someone on the phone and you need to check a meeting time, take a note or add a reminder. Plus, downloading and installing apps with iPhone 4S, thanks to the dual-core processor, now takes seconds, not minutes. The bottom line with the performance of iPhone 4S is that if you were hitting your head on a performance ceiling with iPhone 4 or BlackBerry or an Android phone, your headache will likely subside with this upgrade.
Second, Apple has built iPhone 4S with an intelligent antenna for phone calling. Especially for those on the AT&T network, that will mean clearer calls and fewer dropped calls. Let's face it: an iPhone with lousy phone calling performance is like a tiny iPad. Longtime iPhone users on the AT&T network have long suffered from bad call performance -- not even including the "death grip" that caused dropped calls when iPhone 4 first launched. During the few days we used iPhone 4S, calls were noticeably clearer with no drops on our end. That's a major plus.
The new camera technology that Apple has developed for iPhone 4S will enable much more than family photos or photos of friends playing in fields of tall grass surrounded by mountains (as you'll see in Apple's Utopian demos.) This camera will support apps with powerful, new scanning functionality -- bar codes, QR codes and more -- that will lead to iPhone 4S becoming a differentiator in business. Whether you're talking about a warehouse where inventory moves in and out, or a restaurant where waiters can swipe credit cards and scan coupons, the highly accurate 8 megapixel camera will become a focal point for developers of business apps as much as anything.
Apple hasn't spent a lot of time talking about the speaker sound quality in iPhone 4S.
But iPhone 4S was louder and clearer than even iPhone 4 -- perhaps attributed to the new A5. Audio quality -- whether for listening to music or using the built-in speaker phone -- can make a world of difference, and the audio quality in iPhone 4S sounds better. Beyond attributing the quality to the better processor, it's not easy to explain since Apple lists virtually the same audio specs for iPhone 4 as iPhone 4S. But it is easy to notice.
Next: Taking It For A Ride
Printer-friendly version
Email this CRN article