Printer-friendly version
Email this CRN article
Before an audience of about 70 tech media reporters and editors from around the world, Samsung Electronics Company near its headquarters in Seoul, Korea, Monday unveiled the company's latest series of fast-performing, low cost solid-state drives.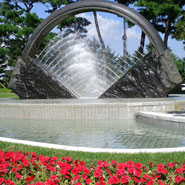 Outside of the Samsung Global SSD Summit at the Shilla hotel in Seoul.
The 840 Series of 2.5-inch, 6-Gbps drives includes models for consumers as well as a Pro line for mobile professionals, enthusiasts and other power users seeking a fast-performing SSD at the lowest possible price.
The announcement was part of the Samsung Global SSD Summit, a full-day event held at the Shilla hotel in Seoul, where editors were given a chance to work directly with the company to experience the new drives, which are rated to deliver sustained transactional performance of 100,000 input/output operations per second (IOps) for random transactions.
Not only was the CRN Test Center on hand for the announcement, it also was given advance access to the new drives and will publish review and performance benchmarks Monday afternoon.
Samsung attributes the high performance levels of the new drives to its MDX multicore controller, a key component in a device that contains parts made only by Samsung.
"In a statement released today, Samsung vice president of memory brand product marketing UnSoo Kim, emphasized the importance of the 840 Series to mobile computing. "[The] introduction of Samsung's 840 SSD series delivers considerable levels of advancements to the notebook user environment [and] Samsung continues to raise the level of performance of SSDs and contribute to the growing global pool of users."
The 840 Series drives are scheduled to hit the channel in mid-October.
PUBLISHED SEPT. 24, 2012
Printer-friendly version
Email this CRN article