Printer-friendly version
Email this CRN article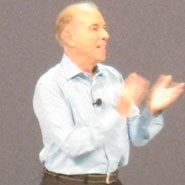 Mark Templeton at Citrix Synergy
Citrix has zeroed in on the increasingly mobile workforce with several new technologies aimed at bringing the simplicity of consumer mobile applications into a secure, flexible business environment.
The company on Wednesday introduced multiple offerings that combine virtual desktop, virtual application and mobile application technologies to let businesses and their services and development partners build enterprise-ready applications for their increasingly mobile workforce.
Citrix President and CEO Mark Templeton drew several rounds of applause and cheers during his keynote presentation at the annual Citrix Synergy conference, held this week in Anaheim, Calif., when he and his team demonstrated several new mobile technologies.
[Related: Citrix Overhauls Channel Program, Increases Sales Requirements For Top Partners]
The biggest applause came when Brad Peterson, identified as Citrix's "chief demo officer," demonstrated such new capabilities as running a YouTube flash video on a Microsoft Windows with an iPad Mini tablet.
He also showed Google Earth running in real time with full accelerated graphics on an Apple MacBook, one of five high-end graphics applications simultaneously running from the cloud, a feat which drew the comment "Oh my God" from one audience member.
The new technologies for running mobile applications in the cloud were enthusiastically welcomed by solution providers attending Citrix Synergy.
Everybody is looking at how to go mobile, said Garrick Williams, a systems engineer at CompuNet, a Meridian, Idaho-based IT infrastructure systems integrator and Citrix partner.
"To give customers the ability to segment their environments into business and personal uses, to bring secure browsers to their devices, all in a seamless way, that's going to be huge," Williams said.
While Citrix showed some high-end graphics applications running in the cloud, the fact that they were running on consumer mobile devices was the most impressive, said Kim Platt, strategic alliance manager at Sirius Computer Solutions, a San Antonio, Texas-based solution provider and Citrix partner.
"The cloud? They didn't really mention the cloud," Platt said. "It was the same thing we saw at the Intel partner conference in March. This year it's all about mobility, and about users choosing their own devices. It's all about users driving the technology."
Templeton officially opened the Synergy conference with his Wednesday morning keynote by coming on stage to the strains of "Going Mobile" by The Who.
"Citrix is going mobile," Templeton said.
NEXT: Citrix Is Going Mobile
Printer-friendly version
Email this CRN article