Printer-friendly version
Email this CRN article
Pages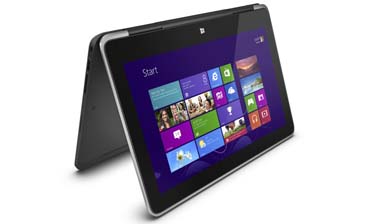 Dell XPS 11
As specs go, the Venue 11 Pro matches up with Microsoft's recently unveiled $900 10.6-inch Surface Pro 2, which has an Intel Haswell Core i5 processor, 64-GB and 128-GB configurations, and 4 GB of RAM. By comparison, the Venue 11 Pro has the Haswell Core i5 processor option and other similar specs. With an eye toward the channel, Dell has added security and IT management tools to the Venue 11 Pro.
The most notable difference, besides price, is that the Dell model tablet does not have a kickstand, which the Surface 2 Pro has, making it harder to use the Dell tablet as a notebook in some situations. But Dell adds a number of things lacking with the Surface Pro 2, namely support for LTE wireless broadband from Verizon, AT&T and Sprint and a hot-swappable battery.
Dell also unveiled two XPS notebooks, including the XPS 13 Ultrabook ($1,000) and XPS 15 ($1,500) and introduced a flip-and-fold convertible notebook, the XPS 11 ($1,000). Each of the notebooks includes touch displays and IT desk-friendly features including Trusted Platform Module for BitLocker data encryption, ProSupport options and configuration services such as static imaging and asset tagging.
Standout features on the XPS 13 include a compact 13.3-inch edge-to-edge display on a notebook chassis that more closely matches that of an 11-inch notebook. The XPS 15 features an optional 3,200 x 1,800 HD display that Dell said has five times more than its standard HD display and includes the Intel Core i7 3.6GHz processor.
Dell's Gorden said that while the releases are largely aimed at the consumer market, the new mobile gear will find its way into the enterprise via Dell partners.
The Dell Venue 7, Venue 8, Venue 8 Pro and XPS 15 will be available Oct. 18. The Venue 11 Pro, XPS 11 and the updated XPS 13 with touch will be available in November.
PUBLISHED OCT. 2, 2013
Pages
Printer-friendly version
Email this CRN article