Printer-friendly version
Email this CRN article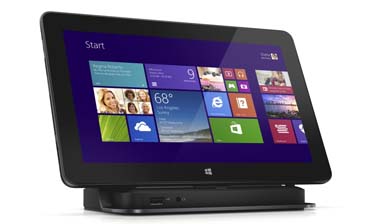 Dell Venue 11 Pro
At an event in New York Wednesday, Dell released an army of Android and Windows 8 tablets, hammering home the point that "end-user computing is important to Dell." Despite the call to consumers, the new Dell lineup will appeal to business-savvy users and solution providers looking for options other than Microsoft's Surface 2 Pro tablet family, which is not available to most Microsoft partners.
Dell released two Venue Android tablets: A 7-inch model running Intel's 1.6GHz Atom processor and a front-facing webcam that supports wireless broadband from AT&T and T-Mobile is priced at $150. A Dell 8-inch Venue Android tablet with an Atom 2GHz chip and front and back webcams is priced at $180. Both Venue Android tablets will ship with Jellybean 4.2.2, sport HD 1,280 x 800 resolution displays, and include Dell's PocketCloud online backup and desktop virtualization app.
Dell's 7-inch and 8-inch Venue tablets are the company's first Android tablets since its 7-inch and 5-inch Streak tablets were discontinued late in 2011. The two tablets were considered commercial failures for Dell.
[Related: Major Product Push: 7 Captivating Dell Tablets And Notebooks]
It's also worth pointing out what Dell did not announce Wednesday, namely a Dell tablet running the Windows 8.1 RT operating system. Last month Dell dumped its XPS 10 tablet running the Windows 8 RT OS. "At this time we are not going to be making any announcements about a Windows 8.1 RT device," said Bill Gorden, Dell's general manager of consumer products, small screen devices.
The Round Rock, Texas-based company has shunned RT, instead focusing on Microsoft Windows 8.1 for its Pro line of tablets, which start out at $300 for an 8-inch Venue 8 Pro and up to $500 for a full-size 11-inch Venue 11 Pro. Both model ships with Office 2013, with the Venue 11 Pro supporting Dell's own type covers and a docking station.
Pricing and availability of the docking station and two covers were not available. Dell said two type covers will be available; one with tactile keys and the other a battery type cover that will double the tablet's battery life.
"We call the Venue 11 Pro a three-in-one," Gorden said. "It can be a laptop, a desktop and a tablet."
NEXT: Dell Goes Head-To-Head With Microsoft Surface Pro 2
Printer-friendly version
Email this CRN article