Printer-friendly version
Email this CRN article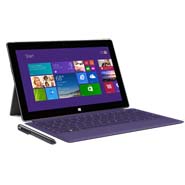 Microsoft Surface Pro 2
Microsoft is pushing hard to get solution providers to understand its mobile strategy and develop their own as quickly as possible given how quickly the IT industry is moving toward mobility and the cloud.
That's the message from Josh Condie, partner technology strategist for Microsoft SMB and distribution, who on Monday told solution providers at the Ingram Micro VTN conference that Microsoft has been shifting its focus away from package software to two new pillars: mobile devices and services.
"Mobile is the new normal," Condie said.
[Related: Microsoft Partners Say Windows 8.1 Improvements Could Lure More Users]
Microsoft's mobility focus really started with Microsoft's 2005 acquisition of Groove, which was done primarily to get Ray Ozzie, CEO of Groove and the original developer of Lotus Notes. Ozzie, who became Microsoft's technical strategist after Bill Gates stepped down, pushed to move every packaged software application to the cloud, Condie said.
"With the cloud now a very mature strategy, we're going to focus on mobility," he said.
Getting customers to follow Microsoft to a cloud-first strategy means rethinking Windows as a "shell" in which the operating system really fades into the background, Condie said.
"When we interact with our devices, we don't think about Windows," he said. "We think about the experience."
This is the perfect time for such a shift, Condie said. Microsoft just last week started shipping its Windows 8.1 operating system, a much-improved version compared to Windows 8, while Intel's new Atom and Haswell chips are starting to fill in the gap for mobile processors and peripherals such as wireless printing that are starting to hit the market, he said.
While Apple's iPad and iPhone are the most common mobile devices, the big difference in approach to the mobile market between that company and Microsoft is that Apple devices are more often purchased as an additional device, and rarely as a replacement device, Condie said.
Microsoft's Surface devices, and other Windows 8.1 mobile devices, are more likely to be purchased as a replacement for existing devices by business users who can choose one or more different devices depending on their requirements, he said.
NEXT: Office 365, End Of Windows XP Support To Drive Mobile
Printer-friendly version
Email this CRN article