Printer-friendly version
Email this CRN article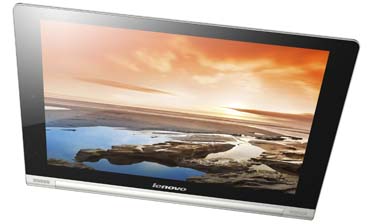 Lenovo Yoga Tablet
Lenovo Tuesday introduced an oddly shaped sub-$300 line of Android tablets named after its popular Yoga line of convertible notebooks. The Yoga Tablet features a cylindrical base with a kickstand that allows the tablet to be used in multiple modes. The Yoga Tablet also has an impressive 18 hours of battery life.
Lenovo unveiled the tablet Tuesday in New York at a press event. Later in the day, it held a second media event in Los Angeles featuring Ashton Kutcher, who has become the tablet's celebrity pitchman. Lenovo said that Kutcher weighed in on the Yoga Tablet's design.
The Yoga Tablet is uniquely designed to stand out from the pack of look-alike rectangular tablets flooding the market, said Jay Parker, Lenovo's president of North America, at the New York event.
[Related: Lenovo Earnings Soar As Tablet, Smartphone Sales Beat PCs]
" 'Yoga' connotes being flexible. And with 18 hours of battery life and multimodes -- for reading, content creation and media consumption -- the Yoga Tablet gives you flexibility," Parker told CRN.
A hold mode, as Lenovo calls it, is for one-handed reading (gripping the cylindrical battery case) or browsing the Web and taking pictures. A stand mode, that utilizes the kickstand, is for viewing content or using a Bluetooth Keyboard Cover (available for $70). There also is a tilt mode for using the on-screen keyboard and game-playing.
The Yoga Tablet achieves its 18-hour battery life because it uses notebook batteries instead of the smaller batteries found in competing tablets, according to Lenovo. By comparison, the iPad Air and second-gen iPad Mini both have an advertised battery life of 10 hours.
Parker said the Yoga Tablet is aimed at the consumer market but also is immediately available to Lenovo partners for commercial sales. Pricing starts at $250 for the 8-inch Yoga Tablet and $290 for the 10-inch Yoga Tablet.
The 8-inch and 10-inch Yoga Tablets have similar specs. Each runs a MediaTek processor and has a 1,280 x 800 display. Each tablet also has 16 GB of storage that can be expanded via a mini-SD card, runs Android Jelly Bean 4.2.2, and has a 5-megapixel camera in back and a 1.8-megapixel camera in front. The 8-inch tablet weighs 0.88 of a pound and the 10-inch model weighs 1.34 pounds.
Lou Giovanetti, co-owner of CPU Sales & Service, Waltham, Mass., said his business customers aren't interested in tablets."It's not this tablet, it's any tablet. Businesses need power. They need content-creation tools, not toys," he said. However, Giovanetti said, because the Yoga Tablet is priced at less than $300 it has a at shot appealing to the BYOD business professional. "Some tablets find a sweet spot for work and leisure. Priced under $300, you are not going to feel bad if it breaks," he said.
Lenovo overtook Hewlett-Packard earlier this year to become the world's largest PC maker, according to market-research firm IDC. Lenovo also has outperformed the market when it comes to growth and has its sights set on the tablet market. In August, Lenovo reported fiscal first-quarter earnings rose 23 percent on strong sales of smartphones and tablets.
Also in August, Lenovo Chairman and CEO Yang Yuanqing set an ambitious goal of selling 50 million smartphones and 10 million tablets in 2014.
PUBLISHED OCT. 30, 2013
Printer-friendly version
Email this CRN article