Printer-friendly version
Email this CRN article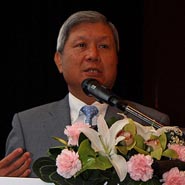 J.T. Wang
Acer said Tuesday Chairman and CEO J. T. Wang will step down as the company launches a "comprehensive restructuring and transformation" amid plummeting PC sales.
Acer, the No. 4 PC maker, said Wang will retain his chairman title until June and Jim Wong, a 27-year Acer veteran, will step in as the new CEO in January.
"Acer encountered many complicated and harsh challenges in the past few years," Wang said in a prepared statement. "With the consecutive poor financial results, it is time for me to hand over the responsibility to a new leadership team to [pave] the way for a new era."
The Taiwanese PC maker reported a loss of $446 million for its third quarter. In an effort to save $100 million in 2014, Acer said it plans to lay off 7 percent of its staff and will take a one-time charge of $150 million this quarter.
[Related: Acer Targets Booming Education Market With Latest Chromebook]
Losses in Acer's PC business have been staggering, according to IDC. In June, the computer maker experienced a 33 percent drop in worldwide PC shipments compared with the prior year. That was the worst decline among PC makers Lenovo, Hewlett-Packard and Dell, which also each saw drops in a retracting PC market. Acer has been hit particularly hard by falling netbook sales and anemic demand for its pricier Ultrabooks, according to the research firm.
"Wang's resignation is a reflection of the changes in the consumer PC market and the new competitive dynamic across platforms," wrote Loren Loverde, vice president of the worldwide PC Trackers team at IDC, in an email to CRN.
Loverde said Acer's PC business rose to prominence on a wave of growth in lower-cost portable PCs by effectively leveraging a broad channel network. "Over the past couple years, related to rising penetration as well as the launch of competing devices -- notably tablets and smartphones -- consumer PC adoption has slowed dramatically, disrupting PC vendor strategies and driving changes in PC design," she wrote.
Acer partner Source Code is typical of how the market for client PCs is changing. David Lebov, vice president of sales at Source Code, Waltham, Mass., said the company has moved away from selling commodity Acer PCs and monitors and has chosen to focus on higher-margin IT services instead.
"The margins just aren't there. Acer makes excellent products, but we have transitioned away from client PC to servers and IT services," said Lebov.
In 2009, Acer launched its Acer Channel Excellence Program aimed at solution providers that sell more than $100,000 worth of solutions a year.
PUBLISHED NOV. 5, 2013
Printer-friendly version
Email this CRN article