Printer-friendly version
Email this CRN article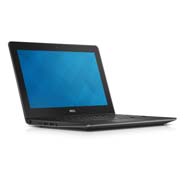 Dell Chromebook 11
Dell on Wednesday signaled it wanted to take on a bigger roll in the education market with the release of a new Google Chrome-based notebook PC, a device Dell's channel partners said could be a real game-changer in this part of the business.
Dell used its Dell World conference, held this week in Austin, Texas, to unveil its new Dell Chromebook 11, a new portable device targeting the education market.
The Dell Chromebook 11 features an 11.6-inch screen and Intel Haswell-based processor architecture and can be ordered with 2 GB or 4 GB of memory, said Jon Phillips, director of worldwide education strategy for Dell.
[Related: Asigra Adds Cloud-To-Cloud Backup Of Google Apps]
"Haswell is a newer architecture for Chrome," Phillips said. "We're not the first in the Chromebook market, be we're coming out with one of the most powerful solutions. Haswell adds a real performance boost."
The Dell Chromebook 11 also features dual-band wireless capability, which Phillips called important to school environments. "It helps prevent saturation in the classroom," he said.
Also included is an 10-hour battery and compatibility with many standard Dell mobile PC accessories like power adapters, Phillips said.
These capabilities are important in classroom environments, said Allen Falcon, CEO of Cumulus Global, a Westborough, Mass.-based cloud services provider and Google Apps integrator.
Falcon said his company currently partners with Google Chrome-based devices from Hewlett-Packard, Lenovo, Samsung, and Acer, and hopes the new Dell Chromebook 11 will help it transform its idle Dell partnership into an active one.
"It's unclear how readily available the Dell Chromebooks will be to the partner channel," he said. "Our distributors are saying it's not available through them. But that could change. It would be a welcome change. The challenge for resellers with Chromebooks, especially in schools, is that they can quickly lead to high-volume deals. And that leads to credit issues with the time between when schools pay partners and partners pay Dell. Distributors usually handle that."
The Dell Chromebook 11 is coming to market with all the right features, Falcon said.
For instance, he said, a 4-GB memory in an 11.6-inch device is very attractive in a world where most devices have only 2 GB of memory. "And dual-band networking is very important," he said. "The vast majority of the bottleneck in schools is in wireless networking."
NEXT: Targeting Education With Google Chromebook 11
Printer-friendly version
Email this CRN article