Vendor will train Cisco partners on newly acquired wireless technologies and bring Airespace VARs under its wing
Printer-friendly version
Email this CRN article
Cisco Systems is making a full-court channel press to bring its partners up to speed on the new wireless technologies it gained with its acquisition of Airespace Networks.
The networking giant this week is unveiling a program to train current Cisco partners on Airespace's wireless technology as well as programs to bring Airespace partners into the Cisco fold. And just last week at the Interop conference in Las Vegas, the company introduced the first product resulting from the combined design teams—an appliance that tracks the location of wireless clients.
With stops in 21 American cities as well as in Europe and Asia, the training program condenses Airespace's technical training into a three-day intensive course for technicians on staff at Cisco partners, said Alex Thurber, director of security and wireless for worldwide channels at Cisco, San Jose, Calif.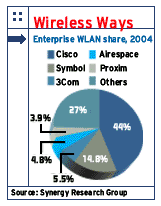 "There is a huge amount of interest from our partners in learning the Airespace technology," Thurber said. Sales training for the Airespace products is already available through video-on- demand via Cisco's Partner E-Learning Connection on the company's Web site, he added.
In addition to the training programs, Cisco is rolling the Airespace products into its Access Anywhere deal- registration program for wireless solutions. Part of the company's Opportunity Incentive Program, or OIP, Access Anywhere offers additional discounts, special financing and leasing credits for partners that register wireless opportunities.
For Airespace partners, Cisco is "throwing down the red carpet," said Brett Galloway, vice president and general manager of Cisco's wireless networking business unit and the former CEO of Airespace.
"Cisco has done a very good job," Galloway said. "There is a huge amount of concern that [Airespace partners] are taken care of. Cisco has rolled out special programs to help those VARs with the transition in terms of discounts and access to products."
Cisco partners must be specialized in a particular technology to participate in select deal-registration and discount programs as well as to gain access to products. To that end, the company has created a temporary "specialization" for Airespace's some 200 partners, giving them six months of access to the programs and products while they train on Cisco's other wireless offerings, Thurber said.
Larry Hart, director of strategic accounts at Global CTI Group, a solution provider in Bakersfield, Calif., said Cisco is working hard to integrate Airespace partners into its program and to introduce Cisco partners to the Airespace technology. Global CTI is a Cisco partner and was an Airespace partner as well.
"There has been very clear communication on the conversion of Airespace product into Cisco SKUs and even how they will merge the products together," he said.
"We were an Airespace partner because the technology filled a gap in the Cisco line," Hart said. "This works really well for us. Now we just have to work with one company to get the best-of- breed in both worlds."
Cisco is aiming to blend the two worlds Hart refers to—the "thin" access point and the "fat" access point worlds—with the Airespace acquisition, said David Leonard, who also serves as vice president and general manager of Cisco's wireless networking business unit.
"The reason Cisco was interested in the Airespace products and technology is we really believe that this product delivered to our corporate enterprise customers the ease of use that these kinds of customers demand," Leonard said. "The traditional vertical market that was comprised of wireless networks that became mission-critical had the expertise to manage these devices as stand-alone devices. They needed a lot of flexibility, capabilities and features. The corporate enterprise customers are different. They know they want wireless, but they are a little afraid still. They want ease of use, ease of management and still very robust features."
One of the first fruits borne out of the joining of the two companies is Cisco's Wireless Location Appliance 2700, launched last week. The device allows network managers to track the location of any wireless client on the network. The server is expected to generate significant interest in the health-care field, where expensive equipment such as crash carts need to be located quickly.
Leonard said Cisco is already at work integrating the companies' existing product lines as well. Plans call for a software upgrade that will allow current Cisco access points to be controlled by the Airespace WLAN controller as well as integrating the WLAN controller technology into Cisco's switches and routers.
"Cisco is moving very quickly in the direction of making this a cohesive product family," said Brian Gilbert, CEO of NeTeam, a Cisco partner in Akron, Ohio.

"The convergence of Cisco's and Airespace's technology is going to be extremely competitive in the marketplace," Gilbert said.
Printer-friendly version
Email this CRN article