Agents express concern about carrier's new compensation strategy
Printer-friendly version
Email this CRN article
Several agents of Qwest Communications International said last week that they fear the carrier's plans to move its compensation model from up-front to residual payments could put them out of business.
The agents said they need up-front payments to support back-office operations, including customer support, installation, project managers and a sales force.
One Qwest partner, who requested anonymity, said his company is scrambling to switch its Qwest customers to another carrier. He estimated that about 50 to 60 in-region partners will have trouble making the shift.
In-region partners serve the 14 states covered by Qwest. Out-of-region partners already are compensated residually.
"It's a shame Qwest has taken the direction it has to convert their partner program from one of the most lucrative to an also-ran," said Jim Porter, general manager of Scottsdale, Ariz.-based Venicom.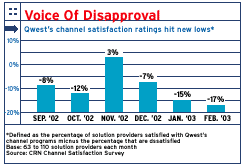 Small agents will have a tough time weathering the transition, said another agent executive, who asked not to be named. "The smaller companies live off those up-front payments. They are really scared," the agent said.
Qwest executives could not be reached for comment. But in a recent interview, Pat Lewis, senior vice president of Qwest Business Partner Program sales, said the Denver-based carrier plans to hold informational sessions to help partners make the transition and find ways to finance back-office processes.
Some agents said they haven't been contacted about the sessions and that details about the program,including the size of the residual payments,remain sketchy.
"I haven't heard of any kind of sessions to help me make the switch," said Robb Karcsay, chief managing member at American Consulting Services, Portland, Ore. "The deadline is in July, and [Qwest] isn't even talking about how much we're going to get paid."
Nik Nesbitt, co-founder of MarketRace, a Denver-based master agent, subagent and channel program consulting firm, said his company is working with partners and Qwest to resolve the issue. One solution might be to have local agents share back-office operations to cut costs, Nesbitt said.
Printer-friendly version
Email this CRN article