Vendor to recruit and train solution providers to offer services
Printer-friendly version
Email this CRN article
Computer Associates International President and CEO Sanjay Kumar last week unveiled the company's strategy for on-demand computing and introduced new network management products to support it during a keynote address at NetWorld Interop here.
Kumar said on-demand computing,a model under which IT infrastructure can reconfigure itself automatically to meet capacity needs,saves money for customers who otherwise have had to buy excess hardware in order to accommodate occasional usage spikes.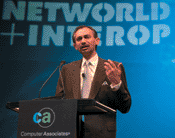 KUMAR PLUGS ON-DEMAND COMPUTING
Computer Associates President and CEO Sanjay Kumar took the stage at NetWorld Interop last week to detail the company's vision for maximizing infrastructure capacity
Declining hardware prices also contributed to customers' capacity splurge, said Steve Pazol, president of Professional Consulting Services, a solution provider based in Chicago.
"A lot of people used Y2K as an excuse to upgrade to cheaper processors, and because of that there's a lot of extra capacity out there," Pazol said.
CA can provide the benefits of on-demand computing, such as improved efficiency, through its Unicenter network management software, without requiring "a complete overhaul of the computing infrastructure," Kumar said.
While Unicenter is sold primarily through CA's direct-sales force, Kumar said the vendor plans to recruit and train solution providers to offer Unicenter implementation services.
 

 KUMAR'S KEY MESSAGES

>> CA is launching initiative to provide on-demand computing through enterprise management.
>> The vendor's network, security and storage management products will support effort.
>> CA likely to create cross-product bundles for on-demand computing.
>> Specific implementation and product sales opportunities will be available to solution providers.
 
He said other CA product lines, including storage and security, will also support the on-demand computing initiative, bringing sales opportunities from those products to the channel.
"It's very likely that we'll see cross-product bundles," Kumar said.
While several of CA's competitors, including IBM and Hewlett-Packard, have also introduced initiatives around on-demand computing, Kumar said CA's cross-platform capabilities will give it an edge.
"It's not in IBM's interests to say, 'We love HP.' It's not in HP's interests to say, 'We love Sun.' I hope to walk in and say, 'We love all,' " he said.
Kumar introduced three products scheduled for availability within the next 60 days. These include Unicenter Network and Systems Management (NSM) 3.1, which can dynamically discover IT resources and map them to business functions; a new Unicenter NSM Dynamic Reconfiguration Option that monitors business service levels and can reallocate capacity when needed; and Unicenter Management for webMethods 3.0.
Printer-friendly version
Email this CRN article