This Week's Subject: Channel Programs
Printer-friendly version
Email this CRN article
The overall level of solution provider satisfaction with hardware vendors' channel programs increased in April, continuing its recovery from a sharp drop in February, according to the CRN Monthly Channel Satisfaction Survey.
 

>> The longer-term trend in hardware channel satisfaction remains downward, with most vendors seeing lower year-over-year ratings.

 
Six of the 11 vendors surveyed by CRN saw gains in their overall channel satisfaction rating in April compared with March: HP, Cisco, Toshiba, EMC, Lexmark and ViewSonic. In many cases, the increases were substantial: Lexmark's satisfaction rating rose 13 percentage points, Cisco's jumped 10 points, and HP's increased 8 points.
Four vendors,IBM, Sun, Intel and AMD,saw their overall level of channel satisfaction decline in April. The declines were steep, with the overall channel satisfaction rating for both IBM and Sun falling to its lowest level in over a year. 3Com's satisfaction rating was unchanged. The rating is defined as the percentage of solution providers that are satisfied with channel programs minus the percentage dissatisfied.
The longer-term trend in channel satisfaction for hardware vendors remains downward, however, with only two vendors, Intel and AMD, showing increases in their overall satisfaction rating in April 2003 compared with April 2002.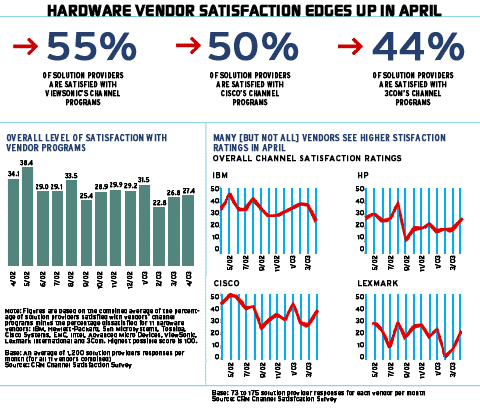 Printer-friendly version
Email this CRN article