Company's new wireless transport platform aimed at enterprise market
Printer-friendly version
Email this CRN article
Aventure-funded Virginia company hopes to capitalize on the proliferation of wireless technologies with a "wire it once" solution for enterprise customers.
On June 9, MobileAccess Networks, formerly Foxcom Wireless, launched its MobileAccess product family, a wireless transport platform that carries cellular, paging and WLAN signals through a building or corporate campus.
The solution consolidates base units from one or more wireless carriers and transports signals over optical fiber to a campus' remote buildings. From there, MobileAccess remote units carry the signals over coaxial cable to passive antennas.
The system also supports WLAN signals, providing more coverage with fewer access points because those access points are centralized in the wiring closet.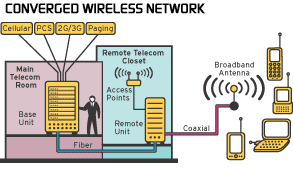 Founded in 1998, MobileAccess, based here, originally targeted its solution at wireless service providers, which would deploy the system for customers, said Cathy Zatloukal, president.
But enterprise clients wanted control over the transport platform so they could run more than one service or service provider over it, Zatloukal said. While the company currently deals directly with wireless service providers, it plans to use solution providers to attack the enterprise market, she said.
Randy Duffield, managing partner at Norstan, an integrator in Minnetonka, Minn., said MobileAccess' platform is exciting because it supports multiple wireless technologies. "You can leverage the same infrastructure to run your pager, cellular and WLAN," Duffield said. "You deploy a common passive cable plant with antennas that you never have to change."
On the WLAN side, one access point supports four antennas, broadening the coverage area, Zatloukal said. "Customers can now buy access points based on capacity instead of coverage," she said, adding that having all of the hardware in the wiring closet makes future upgrades simpler and less expensive.
MobileAccess' platform includes three models: the modular 2000 supports up to 20 voice and data services; the stackable 1000 supports up to four services; and the WLAN-only 800 supports 802.11a, b and g and is compatible with all third-party access points, the company said.
Printer-friendly version
Email this CRN article