Printer-friendly version
Email this CRN article
Following the ratification of the 802.11g standard by the Institute of Electrical and Electronics Engineers in mid-June, wireless networking vendors targeting small businesses are busy.
802.11g's promise is the extension of throughput to a maximum 54 Mbps from the 11 Mbps offered under 802.11b, along with backward compatibility with 802.11b. While estimates place actual throughput connection speeds much lower, the new standard is still
considered an improvement from 802.11b and a more affordable alternative to 802.11a.
SMC Networks, Buffalo Technology, Linksys, Netgear and D-Link were among wireless networking vendors that shipped draft 802.11g products in an early bid to corner market share. Now these vendors, and others, are poised to release firmware updates for pre-standard products, as well as new 802.11g offerings.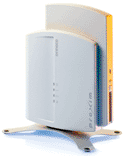 Proxim's Orinoco 600g Access Point is shipping now.
Netgear, for one, is scheduled for a July release of additional 802.11g products including its 54-Mbps Wireless Ethernet Bridge, an 802.11g Wireless PCI Adapter and the 802.11a g ProSafe Dual-Band Wireless VPN Firewall.
And 3Com is unveiling its first line of 802.11g wireless products in its OfficeConnect line, said Alan Miano, product manager at 3Com. Expected to ship by the end of last month was the 3Com OfficeConnect Wireless 11g PC Card. 3Com expects to follow up this month with the OfficeConnect Wireless 11g Access Point, which can be configured as a client bridge or an access point, and the OfficeConnect Wireless 11g Gateway.
Mark DeFabis, president of Indianapolis-based solution provider Paradym Technologies, characterized 3Com's wireless products as feature-rich and price-competitive.
"With some of our smaller clients, the OfficeConnect line is the absolute right choice," DeFabis said. "The very low-end products out there are good for home users but don't suit the needs of a small-business owner. And a lot of the business-focused wireless products out there aren't cost-effective for a small business."
John McHan, director of business development at Wireless Information Networks, a wireless solution provider in Willowbrook, Ill., said what's nice about 802.11g is that, in most instances, you just need a flash upgrade to the equipment so there's not as much expense for the customer.
McHan said his cost-conscious education customers are likely to use 802.11g products, which provide a solid, economical choice for students who can't afford the more expensive equipment associated with 802.11a. "So that's a great example of someone stuck in a situation that if they upgrade to [802.11a], they are going to leave some of their customers behind," he said.
The Wi-Fi Alliance is scheduled to begin interoperability testing of 802.11g products sometime this summer even as the IEEE moves forward with additional wireless networking standards. 802.11e, which addresses quality-of-service issues at the MAC and physical levels and provides several classes of service, is expected to be ratified by the end of the year.
To help its partners better tackle the challenge of continued, emerging wireless technology standards, Netgear has invested in a couple of wireless testing centers at its facility, said Ray Robidoux, president of Netgear, Santa Clara, Calif.
"Having that ability to test and fine-tune your circuitry and your performance is important to our VAR customers in planning how they lay out a wireless network for their customers," he said.
Printer-friendly version
Email this CRN article