Printer-friendly version
Email this CRN article
A new desktop, server and device management suite introduced by LANDesk this week touts such capabilities as software license monitoring and operating system migrations.
The new product, LANDesk Management Suite 7.0, is being offered with a suggested retail price of $79.99 per node. The launch comes against a backdrop of rising profits and significantly increasing partner margins, said Michael Hall, vice president of marketing at LANDesk, based here.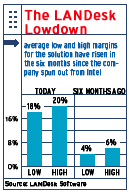 "Once we established our Expert Solution Provider (ESP) program and changed our distribution model to single-tier distribution to work directly with ESPs, partner margins have gone from four to six points up to 18 to 20 points," Hall said.
LANDesk, which was spun out from Intel as a private company in September 2002, sells and deploys its software solutions exclusively through its ESPs.
"LANDesk is really ahead in this space, and a lot of other companies, including Microsoft, license pieces of their technology," said Louis Novakis, practice manager for enterprise server and desktop solutions at Continental Resources, a Bedford, Mass.-based VAR and LANDesk ESP. "We are seeing very high demand for their products."
Novakis said it's also likely that customers will adopt the new suite, as many companies struggle to ensure that their software licenses are in compliance with usage guidelines, and look for a way to prevent overpurchasing.
The operating system migration module is also timely, he said, because many of his customers are under the gun to move to Windows XP from Windows 95, 98 and NT.
LANDesk will see competition from the Novell Resource Management solution that shipped in April, Microsoft's SMS 2003 due in September and Microsoft System Center due in 2004.
PAULA ROONEY contributed to this story.
Printer-friendly version
Email this CRN article