Printer-friendly version
Email this CRN article
When Gold's Gym needed a new IT system,including a point-of-sale presence,to support its 650 locations and nearly three million members, it looked for an infrastructure designed like the bodies it aims to mold: well-built, resilient and able to constantly improve and adapt to new challenges.
To meet these goals, Gold's Gym turned to Wyse Technology, a thin-client vendor in San Jose, Calif., which recommended the nationwide systems integrator arm of Unisys as its partner on the wide-reaching project.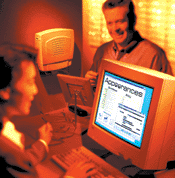 "Unisys provides Gold's with a lot of what local shops could not provide," said Jim Biondo, integration architect at Unisys. "[Gold's has] a big footprint of gyms across the country and didn't have the breadth of engineering hands across the country to handle it, so they came to someone who has the footprint, who has national coverage."
Indeed, Gold's Gym CIO Jeff Skeen said that although Unisys submitted a higher bid during the RFP process, the company's total project cost actually came in lower than that of its competitors, due to its national coverage.
Over the past three years, Unisys has installed thin-client POS systems in 30 corporate Gold's Gym locations, and it will be converting seven more in the next 90 days. The system will also be offered to all of Gold's Gym's 500 U.S. and 150 international franchises next year.
Unisys installed a virtually identical system in each gym, composed of POS systems based on Wyse Winterm 3360SE and Wyse Winterm 8360SE thin-client terminals at each gym's front desk/security, customer-service and membership departments. Each site's terminals are connected via a 64-Kbyte frame-relay network and DSL line to a central membership application and database, which are co-located on servers at national ASP Exodus' hosting facilities. Each location's POS systems are supported by network printing capabilities, digital cameras to create membership photos, Symbol Technologies' membership-card scanners and MagTech Systems' credit-card scanners that are accessible from the thin clients.
 

 ANATOMY OF A SOLUTION




>> COMPANY: Unisys
>> FOCUS: National systems integrator
>> ANNUAL REVENUE: $6 billion
>> PROBLEM & SOLUTION: Gold's Gym International required an IT infrastructure that was easy to use and simple to deploy in numerous locations
>> PRODUCTS & SERVICES USED: Wyse thin clients, Symbol Technologies card scanners, MagTech Systems credit-card scanners
>> LESSONS LEARNED:
%95 Flexible processes are mandatory, as is the ability to provide alternatives for technologies that are not available.
%95 Document processes and procedures so they can be duplicated.

 
The Wyse thin clients offer a wide range of benefits for Gold's Gym, according to the customer. Skeen estimates that the total cost of ownership for the thin clients is 50 percent to 60 percent cheaper than for complete systems because they are easier to support and require little downtime for repairs. Although Gold's Gym has 2,000 employees, it employs only four IT staffers. Because the application and database are centrally located, updating them is easy, and the data is more secure than if it resided on individual computers, Skeen added. The thin clients are more secure themselves because they lack disk and CD drives and external ports, which would allow users to install personal programs or introduce viruses to the network, he said. Plus, the systems are easy for the Gold's Gym staff to use and to expand as the gym chain grows.
"The reason we built the whole platform, and the reason why thin clients are so important, is as a franchising organization, there's never been a standard platform. We needed to come up with a model where the cost of the system is affordable for a mom-and-pop operation and strong enough to manage hundreds of gyms," Skeen said.
Despite the numerous benefits of thin-client systems, Unisys hit a few bumps in the road with the Gold's Gym installations.
First, in every installation Unisys completely replaces a working Windows PC-based system with a thin-client system, and so it has to be very careful that the system will work exactly as planned before the old computers vanish, Biondo said. Plus, when Gold's Gym acquires a new gym it quickly converts it to a Gold's Gym, so Unisys must have systems and personnel available to quickly switch the IT system on its customer's timeline.
In addition, over the life of the contract, some of the peripheral devices originally specified for the project have been discontinued. Therefore, Unisys has to carefully test each new substitute device to make sure it will work as expected once installed in the real-world environment. Occasionally, the integrator has been required to tweak the system plan to accommodate these new devices. In addition, each time a new device is added to the system, drivers must be written to support it. While the drivers are being written, Unisys continues with the system installation and must often create temporary workarounds to get the system running without the necessary drivers or devices, Biondo said.
Printer-friendly version
Email this CRN article