Printer-friendly version
Email this CRN article
IP telephony challengers are aggressively courting both partners and customers in an effort to steal market share away from Cisco Systems, solution providers said.
As traditional telephony players such as Avaya, Nortel Networks and Siemens move further into the converged systems space, they are loosening Cisco's tight grip on the growing market, according to partners.
"It's a horse race right now," said Bill Corbin, president of Network Catalyst, a network integrator in Irvine, Calif. "Customers are seeing some of these other platforms and starting to look at Avaya and Nortel now as viable alternatives [to Cisco]."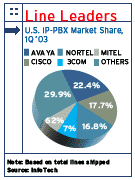 Both Nortel and Avaya,which currently is not one of Network Catalyst's partners,have increased their contact with Network Catalyst in recent months regarding their VoIP offerings, Corbin said.
"Cisco is enabling partners to be very aggressive, but Nortel and Siemens are being very aggressive on price as well," said Kevin DiPaolo, senior vice president of Front-
runner Network Systems, a Rochester, N.Y., solution provider.
Some customers prefer Avaya's more cautious hybrid solution to Cisco's pure-IP approach, said Jeff Hiebert, principal at ROI Networks, a solution provider in San Juan Capistrano, Calif.
"With hybrid systems, you only have to use IP telephony where it makes sense," Hiebert said, noting that Merrill Lynch last month said it was swapping out Cisco VoIP systems for Avaya's for just that reason.
But Hank Lambert, director of product marketing at Cisco, San Jose, Calif., said Cisco is more than holding its own by increasing the interoperability of its products with legacy systems to enable gradual migration. In addition, he said, the company is introducing lower-priced IP handsets.
"Cisco does encourage our customers to move over quickly to IP, but we do not require it," Lambert said.
The vendor last quarter also introduced a new leasing program for its VoIP products that ties Cisco services and a percentage of channel partners' services into the lease.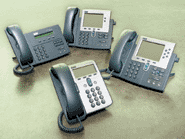 Cisco rolled out leasing program for its VoIP products last quarter.
Partners said they expect Cisco also to introduce a low-end IP telephony system as early as this quarter to combat gains Avaya and Nortel have made in the small- and midsize-business market. Lambert declined to comment on Cisco's future product plans.
While Cisco overshadows its competitors in many segments of the IP telephony space, current research shows challengers are picking up ground and, in some cases, overtaking the networking giant.
For example, Avaya, Basking Ridge, N.J., took over the lead spot in the U.S. IP-PBX market in the first quarter of 2003, according to a recent report by InfoTech.
Avaya had 22.4 percent of the total lines shipped, growing its line shipments 184 percent vs. the same quarter last year.
Cisco finished second at 17.7 percent, growing its shipments by 29 percent, while Nortel, Brampton, Ontario, placed third with 16.8 percent of the market and 80 percent growth, according to InfoTech.
On a worldwide basis, Avaya led Cisco in IP telephony port shipments through the first half of 2003, according to Synergy Research Group, although Cisco led in overall IP telephony revenue, VoIP gateway ports and IP phone shipments.
While its ranking has slipped, Cisco's standing in the overall telephony market remains strong because every phone system it sells represents a competitive displacement, while much of the market gains in VoIP made by legacy players come at the expense of traditional system sales, said Frank Stinson, program director at InfoTech.
Printer-friendly version
Email this CRN article