Channel eyes wireless
Printer-friendly version
Email this CRN article
Channel opportunities in security, seamless roaming, personalization and application development will take the spotlight as vendors tout new wireless offerings at this week's CTIA expo here.
IBM plans to showcase a solution from partner Rocksteady Networks that provides high-speed wireless Internet access to more than 1,000 truck stops. The Rocksteady software, running on IBM Intel-based eServers using Linux, gives truckers Web access via an 802.11 wireless area network deployed by Columbia Advanced Wireless.
"We are seeing numerous opportunities for partners on the application development front and the buildout phase with Cometa to develop a nationwide Wi-Fi network," said Mike Maas, vice president of global marketing for IBM's communications sector. Cometa is a joint wireless venture between AT&T, IBM and Intel.
 

>> 'As the industry introduces a set of wireless products, the thing I believe customers will want is security.' -- JACK DAVIS, CEO, SIDEBAND SYSTEMS

 
"We've had numerous calls from partners and sent them out to help with the rollout of Cometa networks," Maas said.
IBM also plans to highlight a wireless enterprise delivery framework for connecting wireless networks with each other and with enterprise systems, serving as a blueprint for deploying mobile devices.
Also at CTIA, Sun Microsystems plans to introduce initiatives for mobility services, network infrastructure, data center optimization, hosted services enablement, network convergence and unified messaging.
"The message coming from us at the show is anywhere, anytime on anything translates into a personal network experience," said David Orain, telecommunications business manager at Sun. "All of those delivery networks,wireless, wireline, broadband and cable,are converging into a single network and becoming a personal network."
Sun also plans to unveil a partnership with Nortel Networks in which Nortel's Mobile Location Center will be integrated with Sun's Mobile Location Services Reference Architecture. In addition, Sun is slated to introduce the Netra CP2300 telecom blade server.
Like IBM, Sun is relying on partners to deliver the wireless applications to end users. "We are very partner-centric and rely heavily on VARs to deliver solutions in the telco area and mobile data solutions for enterprises," said Craig Miller, manager of carrier mobility systems at Sun.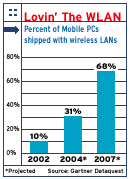 Nortel's CTIA message will center on its efforts to push beyond a voice utility business model and into a broader data-services focus. To that end, the vendor plans to showcase wireless data networking technologies and solutions, including IP-based services, streaming video, WLAN mobility,
content-based billing and more, said Mark Morell, director of strategic marketing at Nortel.
On the security front, Certicom plans to introduce movianMail, a secure e-mail solution based on S/MIME v3 for use with Microsoft Pocket Outlook. The solution sends and receives digitally signed and encrypted e-mail messages and attachments plus shows the message origin via digital signatures and certificates.
"We sell our products through the channel," said Tony Rosati, vice president of marketing at Certicom.
Security is a top priority when it comes to wireless, solution providers said. "As the industry introduces a set of wireless products, the thing I believe customers will want is security," said Jack Davis, president and CEO of Sideband Systems, Beverly, Mass.
The value-add lies in solutions like VPNs with two-factor authentication, such as a physical token and a password, said Jin Jung, senior product manager for wireless embedded solutions at RSA Security. Corporations will start allocating more funds toward securing wireless networks, Jung said.
Deploying wireless networks vs. traditional wired networks will be another key sales avenue, solution providers said. "Businesses are coming to us in droves right now to set up wireless networks," said Ampy Buchholz, engineering manager at Pacific Star Communications, Portland, Ore.
IpUnplugged, meanwhile, plans to introduce version 3 of its secure, seamless roaming software, which gives users access to voice, video and data across any IP network. The vendor recently launched a reseller network, called the Wireless Alliance Team, and has signed up five resellers, with plans to add 30 more by year-end.
Printer-friendly version
Email this CRN article