Combining wireless, VPN technologies in cost-effective solution
Printer-friendly version
Email this CRN article
SonicWall plans to unveil Monday a new firewall appliance for the SOHO and SMB markets that integrates wireless and VPN technologies in a solution designed to be secure, economical and easy to use.
John Gordineer, product line manager for the Internet security appliance vendor, based here, said the new SonicWall SOHO TZW enables administrators to enforce IPSec authentication and encryption between LANs and WLANs by creating a "Trusted Zone for Wireless" (TZW).
"We have made it very flexible, with some of the high-end secure wireless gateway features, including guest services," Gordineer said. "We've really put a lot of work into making relatively complex technologies like firewall and VPN and wireless into just drop-dead simple management."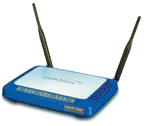 The SOHO TZW creates what SonicWall calls a 'Trusted Zone for Wireless.'
In addition to wireless guest services, the SOHO TZW includes enforcement of IPsec 3DES encryption on the WLAN, a Web interface for remote or local management and support for SonicWall's Global Management System for distributed networks, he said. It also features antivirus and content filtering enforcement as well as tunnel-all mode, which enables TZW to have all authenticated users transmit in infrastructure mode to prevent card-to-card communications.
The SOHO TZW combines firewall and VPN technologies with an integrated 802.11b access point and is available in a base configuration supporting up to 25 users, with upgrades to 50 or unlimited users.
The new firewall appliance is available this week and is priced at $895, which Gordineer said is much less expensive than more complex enterprise solutions that can start at $3,000.
Kenny Tsoi, account manager for Sudden Service Technologies, a wireless integrator in Vancouver, Canada, said his company is working now to implement the SOHO TZW at a family medical practice in his area.
More specifically, Sudden Service is implementing a Wolf Medical software package to hook into the practice's back-end server and allow the paperless transfer of medical records.
Instead of having a tethered PC in every exam room, said Tsoi, Sudden Service is equipping physicians with Tablet PCs running 802.11b to create a paperless, wireless medical office where doctors can transmit and upload data wirelessly.
While it's still early in the project and more testing needs to be done, the SOHO TZW fits a real need to secure wireless implementations for SMB and SOHO customers, Tsoi said.
"We're working to get the proper firmware updates to make sure the connection between the tablet and TZW are, not more secure, but more reliable," he said. "Connection-wise, it's fine, but we are doing some beta-testing to make sure the VPN client is working well with the TZW."
Printer-friendly version
Email this CRN article