Printer-friendly version
Email this CRN article
Solution providers say they're keeping faith in the strength of Proxim's products as the wireless networking vendor struggles with disappointing sales, a management shakeup and an unclear future.
Proxim's stock price plunged last week when Chairman Jonathan Zakin and Vice Chairman David King resigned following the release of preliminary second-quarter 2003 results, which forecast a bigger loss and a roughly 20 percent sales decline for the year-over-year period.
Keith Mattes, vice president of Summit Technologies, a Burlington, Vt.-based wireless solution provider, said it's difficult to gauge the effect of the Proxim news but added that he's looking toward later this month, when the vendor will report final second-quarter results.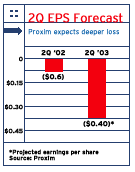 "At the same time, we feel they have some excellent products," Mattes said. "I've got to have confidence that much of this is related to current economic conditions that we are all hoping are going to turn around." Proxim's acquisitions of Western Multiplex and Orinoco last year were strategically sound, based on the return on investment Summit clients are realizing with Proxim solutions, he said.
Angie Wong, CEO of Fremont, Calif.-based Network Designs and Ojo Technologies, said Proxim's struggles are "a shame because Proxim is a great product."
The vendor's problems also cloud its future, Wong said. "Having the greatest product and not having the right marketing and the right management can mean this company just may not survive. Or maybe Cisco would acquire them instead," she said.
Networking giant Cisco Systems acquired wireless networking vendor Linksys earlier this year in a $500 million deal. Wong and other solution providers said the wireless market is ripe for more consolidation, and Proxim's solid products and financial struggles make it a potential acquisition target.
For the second quarter ended June 27, Sunnyvale, Calif.-based Proxim projects a loss including charges of 40 cents to 42 cents per share on sales of $34 million to $35 million vs. a loss of 6 cents per share on sales of $45.2 million for the same quarter last year.
Excluding charges, Proxim expects a loss of 3 cents to 4 cents per share. Wall Street analysts had estimated a loss excluding charges of 2 cents per share on sales of $39.3 million. Final second-quarter results are slated to be reported July 22.
Printer-friendly version
Email this CRN article