Printer-friendly version
Email this CRN article
Like many of their peers across the IT landscape, solution providers in the conferencing technology space are facing price wars, margin erosion and the increasing need to transition to a services-based business to survive, said VARs and integrators attending the Wainhouse Research Summit 2003 symposium last week in Boston.
As the prices of videoconferencing endpoints continue to drop, solution providers said they are turning to services such as integration, outsourcing, IP design and training to achieve recurring revenue and maintain profitability.
"That has been our focus, and that's the only reason why we've been profitable for the last 10 years," said Michael Valletutti, chairman and CEO of Applied Global Technologies, a conferencing solution provider based in Rockledge, Fla.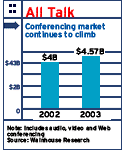 Valletutti predicted that 80 percent of the current conferencing resellers won't survive because they aren't able to shake their reliance on product sales.
Even customers that shop for products solely on price eventually come back to the channel because of the services that partners provide, said Kirk Muffley, director of videoconferencing solutions at The Whitlock Group, a Richmond, Va.-based conferencing solution provider.
"A lot of the time, people buy [products] on price, and because they are dissatisfied with the service
or lack of service %85 they buy from an integrator the next time because they understand the value," Muffley said.
In addition to building up their services businesses, solution providers also should rid themselves of the notion that conferencing solutions are only fit for large enterprises, said Marty Karlin, CEO of ReView Video, a conferencing VAR-turned-distributor based in Aurora, Ill. "The real growth market is the midmarket," Karlin said. While many enterprises already have established videoconferencing strategies, midsize companies are still willing to try it and buy it, he said.
Solution providers also need to spread their skills beyond videoconferencing and into Web- and audio-conferencing so they can create integrated solutions, Karlin said.
The Web- and audioconferencing markets are expected to hit double-digit growth this year, compared with the 4 percent growth expected in the videoconferencing market, according to Wainhouse Research.
Printer-friendly version
Email this CRN article