Printer-friendly version
Email this CRN article
Hewlett-Packard Monday plans to boost its network infrastructure offerings with a new line of Gigabit Ethernet edge switches and new Gigabit and 10-Gigabit Ethernet blades for existing products.
The time is right for Gigabit Ethernet to the desktop because PCs and laptops are shipping with Gigabit Ethernet cards and data file sizes are growing, said Darla Somerville, Americas general manager of the ProCurve Networking Business at HP, Palo Alto, Calif.
"Even in e-mail, people are dealing with multiple Megabyte-size files that can take several seconds to several minutes to download," Somerville said. "People are doing multimedia, video development, engineering design, and Gigabit makes it a lot nicer," she said.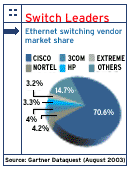 Solution providers report mixed interest from customers in Gigabit Ethernet to the desktop.
Gigabit Ethernet to the desktop isn't driving upgrades in most cases, said Bob Patrick, president of MXN, an Atlanta-based solution provider.
"For existing customers running well on 100 Megabytes, this is not going to be a big thing," he said.
However, Gigabit Ethernet to the desktop is intriguing to customers that are already planning to upgrade, he said. "It's not a 'need to have,' but it is a 'why not?' " he said.
Still, there are customers with heavy bandwidth requirements that are looking for higher capacity, such as cities with Geographic Information System servers that house city and utility plans, he said.
Another hot area for Gigabit Ethernet to the desktop is higher education, especially universities with large video labs or engineering programs, said Chad Williams, director of the public sector business at Matrix Integration, a solution provider in Jasper, Ind.

HP ProCurve Switch 2824 can stack with other HP switch families.
"These schools are fighting to say they're the No. 1 wired school," he said. "It has to do with bragging rights."
The new HP ProCurve Switch 2800 series includes the 2824, which includes 20 10/100/1000 ports, and the 2848, which includes 44 10/100/1000 ports. Both switches also include four "dual-personality" ports for Gigabit copper or mini-GBIC (Gigabit Interface Converter) fiber connectivity.
The 2800 series can stack with other HP switch families to provide single IP address management for up to 16 switches.
Available now, ProCurve Switch 2824 carries a list price of $2,499, while ProCurve Switch 2848 is list-priced at $4,899. Prices include a lifetime hardware warranty, free phone support and software updates, and next-business-day advance replacement.
HP is also introducing Gigabit Ethernet modules for its Switch 4100gl and Switch 5300xl series chassis products as well as a dual-port 10-Gigabit Ethernet blade for its Switch 9300 series routing switch.
Printer-friendly version
Email this CRN article