Startup Trapeze Networks, Extreme Networks unveil WLAN offerings
Printer-friendly version
Email this CRN article
The booming wireless market continues to spawn startups and sway traditional wired networking companies to hit the market with enterprise WLAN strategies and solutions.
This week, Pleasanton-based startup Trapeze Networks is set to officially launch its WLAN Mobility System and introduce a handful of reseller partners and a couple of clients, including the county of Los Angeles.
In addition, Santa Clara, Calif.-based Extreme Networks plans to jump into the wireless market with its own WLAN solution, which includes a Summit 300-48 edge switch and an Altitude 300 Wireless Port.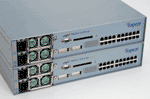 One Mobility Exchange is included in Trapeze's Mobility System starter kit.
The Trapeze WLAN Mobility System includes the Mobility Exchange, Mobility Point, Mobility System Software and RingMaster tool suite. The components share a systemwide control plan and data plane that are designed to deliver secure user mobility, wired/wireless integration, and tools to help solution providers plan and manage large enterprises.
"This is a true mobility system with unique tools, preplanning capabilities and opportunity for the channel to provide more value to end-user customers," said Dan Simone, co-founder and vice president of product management at Trapeze. "It is identity-based networking that allows users to log in once, roam and retain access privileges and policies no matter where they are."
Pricing for the Trapeze WLAN Mobility System, set to ship in June, begins at $9,500 for a starter kit, which includes one Mobility Exchange, two Mobility Points, Mobility System Software and the RingMaster tool suite.
John Polakowski, vice president of sales at Wireless Resources, a Detroit-based solution provider, said he hasn't yet signed a reseller agreement with Trapeze but expects to do so, based on the quality of its solution set. "We are intrigued because we see the Trapeze wireless technology overcoming the shortcomings of existing WLAN technologies, particularly in the areas of management, security and roaming," said Polakowski, whose company offers wireless integration to enterprises.
Extreme said it plans to make its wireless offerings available during the third quarter. The Summit 300-48 edge switch is slated to be priced at $6,495 and the Altitude 300 Wireless Port at $595, the company said.
Printer-friendly version
Email this CRN article