Printer-friendly version
Email this CRN article
In a push to help its partners become more profitable, Cisco Systems, under the leadership of CEO John Chambers, is urging solution providers to develop application-driven business practices targeted at vertical markets.
The move toward developing such practices will require a fundamental shift in solution providers' business models away from fulfillment,a model dominated by product sales,and toward professional services and applications, said Edison Peres, vice president of advanced technologies for worldwide channels at Cisco, during a keynote address at the Cisco Partner Summit here earlier this month.
Peres identified several high-growth technology areas around which partners could build vertical market solutions, including IP telephony, wireless and mobility, security and storage.
"These markets are all growing at 30-plus percent, and they're all really large," Peres said. "The challenge is to figure out how we can make it a profitable business."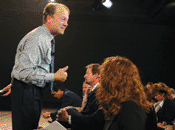 Cisco CEO John Chambers addresses attendees at the vendor's Partner Summit.
Cisco has also identified several vertical markets around which partners could build practices, including banking, education, health care and retail, Peres said.
The vendor plans to develop blueprints and technology bundles to help partners build and sell the solutions, which will require partners to integrate technology and applications from multiple vendors, he said.
For example, Peres said Cisco provides blueprints for "the branch of the future," a solution for the banking industry that combines technologies including IP telephony and video, wireless, content management and Cisco's 3700 series branch routers with advanced security capabilities.
Cisco also offers Partner Business Consultation, a service that provides an audit of a solution provider's services business and provides recommendations for improvements, he said.
Solution provider IntelliMark is already heeding Cisco's advice and is planning to develop a services portfolio for local banks, said Jeremiah Ginn, director of network engineering at the Little Rock, Ark.-based company.
With 78 independent banks in Arkansas, the opportunity could be huge, Ginn said. "Cisco wants us to provide a total solution because one solution begets another, and that will drive hardware sales indirectly," he said.
Also at the summit, Cisco unveiled a new line of stackable switches aimed at furthering the adoption of Gigabit Ethernet on the desktop.
The Catalyst 3750 features Stackwise, a new Cisco architecture that utilizes a 32-Gbps stack interconnect to collectively manage up to nine individual switches, said Larry Birenbaum, vice president and general manager of Cisco's Ethernet access group. "Our mission was to enable a stack of these switches to operate as one, making one of many," Birenbaum said.
Cisco's push to offer Gigabit Ethernet support in its stackable switches comes in response to a trend in the PC industry to build the technology into new computers, said Kathy Hill, vice president and general manager of Cisco's desktop switching business unit. "This year we'll start to see every desktop have a Gigabit Ethernet connection," Hill said. "If you upgrade your PCs, they're going to have it."
The Catalyst 3750 line will give solution providers an entree to Gigabit Ethernet desktop solutions and help them address the market's need for resiliency and ease of operation, Hill said.
To provide resiliency, the Stackwise architecture includes automatic failover capabilities that allow any switch in the stack to take over for the master switch if it fails, Hill said. In addition, any switch in the stack that fails or loses power can be swapped out for a new switch, which will automatically configure itself with the same software and settings as its predecessor, she said.
The line offers Cisco's highest-density stackable Gigabit support to date, with 24 Gigabit ports, and supports both IP v.4 and IP v.6, Hill said.
Targeted at customers with small and midsize wiring closets, enterprise branch offices and data centers with space constraints, the Catalyst 3750 line is slated for general availability in June. Pricing will start at $4,995.
Printer-friendly version
Email this CRN article