Printer-friendly version
Email this CRN article
As low-cost networking vendors work their way into midsize-business networks, high-end vendors are unleashing value-priced, feature-rich products to stem the tide.
Extreme Networks last week unveiled Summit 200, a full-featured Layer 3 edge switch priced as low as $70 per port. Extreme also plans to beef up its channel team, adding 40 percent more sales managers focused on working with channel partners in the space.
Cisco Systems in late June introduced a new control module for its Catalyst 4500 switches targeted at midsize enterprise and education customers. The new Supervisor Engine II Plus, priced at $8,495, incorporates the features that midsize customers want at about 60 percent of the cost of the company's top-of-the-line Supervisor Engine IV control module.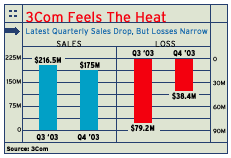 And 3Com, hit hard by low-priced competitors in its latest earnings report, plans to restructure pricing and marketing efforts to stave off market-share erosion. Later this month, 3Com also begins shipping its Switch 7700, a value-priced Layer 3 modular switch sourced from Chinese vendor Huawei.
The moves come as low-cost networking vendors such as SMC, Asante and Netgear move up the value chain with Layer 3 products of their own.
Solution providers welcome the moves. Tom Gobeille, president and CEO of Network Computing Architects, an Extreme partner in Bellevue, Wash., said Extreme's new value-priced switches are a good idea. "The SMCs of the world are chipping away at Extreme's business on the edge," he said. "Leaving the edge vulnerable to the low-end players is dangerous business."
Gobeille said many customers are saving money by going with Extreme or Cisco switches in the core and opting for SMC or Asante switches on the edge.
"As these companies move up in the world and introduce Layer 3 switches of their own, those customers are likely to consider them as serious options," he said.
Don Gulling, president of Verteks Consulting, a 3Com partner in Ocala, Fla., said he is seeing pricing pressure from low-cost vendors as well. Interestingly, Gulling said that in his region he is seeing electricians speccing out new construction complete with Cat 5 wiring and switches, usually from Netgear, D-Link or Linksys.
"We are usually able to take those deals away when we explain the value we can offer with a Layer 3 switch," he said.
Printer-friendly version
Email this CRN article