Printer-friendly version
Email this CRN article
With the Institute of Electrical and Electronics Engineers (IEEE) poised to ratify the 802.11g wireless standard Thursday, wireless networking vendors are moving to market with products aimed at boosting wireless data throughput rates.
U.S. Robotics unveiled its 802.11g Wireless Turbo product family, which the company says increases data throughput to as much as 100 Mbps from the promised 54 Mbps maximum associated with the new standard.
U.S. Robotics maximizes network capacity by placing all the speed on a single channel, said Kevin Goulet, director of product management at the Schaumburg, Ill.-based wireless networking and modem vendor.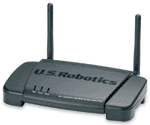 U.S. Robotics' 802.11g Wireless Turbo products will offer up to 100-Mbps throughput.
U.S. Robotics' 802.11g Wireless Turbo product family includes an access point and router priced at $130; a multifunction access point at $250; a PCI adapter at $100; and a PC card priced at $80.
There has been plenty of buzz about 802.11g's promise of extending throughput to a maximum 54 Mbps from 802.11b's 11 Mbps, and maintaining backward compatibility with 802.11b. While estimates place the actual throughput connection speeds much lower, the new standard is still considered an improvement from 802.11b and a more affordable alternative to 802.11a.
Michael Allton, sales manager at Viking Technology, a wireless networking solution provider in Norwalk, Ohio, said the promise of 100-Mbps throughput on a wireless network is great news. One of the biggest barriers Viking faces in convincing customers to go wireless is the issue of speed, he said. "We've had some questions [from customers] about putting in a wireless network and how that would perform compared to a wired network," Allton said. "That question becomes moot with these new products."
Meanwhile, other wireless vendors are shipping products to maximize promised data throughput speeds associated with 802.11g. SMC Networks last week began shipping 802.11g draft-compliant wireless networking products with Intersil's Prism Nitro technology to enhance its 802.11g data throughput speeds.
SMC is among several wireless networking vendors, including Linksys, NetGear and D-Link, that shipped early draft 802.11g products in an early bid to corner anticipated demand and market share.
Printer-friendly version
Email this CRN article