Agents not surprised but bemoaned lack of carrier accountability
Printer-friendly version
Email this CRN article
Cable & Wireless' departure from the U.S. market came as no surprise to agents, many of which had already swapped out C&W for other service providers.
C&W began pulling its voice and data services out of the United States in late 2001 and early 2002. In November 2002, the carrier said it might withdraw from domestic business markets in the United States and continental Europe, adding that it would still support multinational enterprise and service provider customers in those markets.
Last week, however, C&W ceased all operations in the United States and cut 7 percent of its workforce in the U.K. to counter slumps in demand for its services. The carrier had already cut 1,000 jobs since November 2002. C&W said it will continue to provide services in the U.S. until its withdrawal is complete.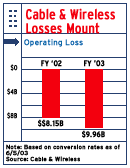 "C&W's U.S. pullout is a nonevent for all but possibly a tiny group of resellers that had a significant amount of voice or data business through them at one time," said Emmet Tydings, president of master agent AB&T Telecom, Gaithersburg, Md. "I don't know a single agent or reseller that hadn't begun to migrate as much business as possible away from C&W last year or even in 2001."
Ted Schuman, CEO of PlanetOne, a Scottsdale, Ariz.-based master agent with 520 agent partners, called the C&W pullout "the end of an era."
"What was once the clear leader in the voice and data industry to partner with has been reduced to yesterday's news," said Schuman, whose C&W revenue has plunged to about $3 million from $12 million in the last three years. "Anybody closely related to the company has seen this coming for the last 24 to 36 months."
Although C&W's departure stands to impact few partners, it reflects some carriers' tendencies to abandon partners,with minimal, if any, consequences on their part.
"I guess the message here is pick your partners carefully," said Greg Zulli, co-founder, president and CEO of CarrierChoice, Bethlehem, Pa. "It wasn't that long ago that something like this was sprung on [the agent community] by WorldCom through bankruptcy court. Now Cable & Wireless is leaving its partners high and dry."
Many agents believe they need to form an organization to put more pressure on carriers to play fair.
"What needs to happen is agents need to bond together to have some kind of group power, because as it stands now the carriers can do whatever they want and there are no penalties," Zulli said.
STEVEN BURKE contributed to this story.
Printer-friendly version
Email this CRN article