Printer-friendly version
Email this CRN article
Avaya is set to release this fall a revamped line of LAN switches optimized for IP telephony traffic, CRN has learned.
The enterprise networking and telephony vendor has flailed in the LAN switch space since it was spun out of Lucent in October 2000, garnering less than 1 percent market share, according to analysts.
Avaya's focus on voice products and its partnerships with LAN switch vendors Extreme Networks and Foundry Networks have led many observers to speculate that it would soon exit the LAN switch marketplace altogether.
 

>> The company plans to introduce a new line of modular LAN switches in the fall.

 
Instead, Basking Ridge, N.J.-based Avaya intends to revamp its Cajun line, with plans to introduce a new line of modular LAN switches and a separate line of stackables in the fall, according to documents viewed by CRN. Both new lines include power-over-Ethernet options and multilayer switching for optimized voice traffic.
Jeff Hiebert, president of ROI Networks, San Juan Capistrano, Calif., said Avaya's planned new products will allow him to offer a single-vendor solution to customers that prefer it. "It looks as if they are rethinking their entire portfolio and capitalizing on their voice expertise," he said.
First up is the Avaya C460, a six-slot chassis switch with redundant switch-fabric modules and up to three power supplies, due out this fall. With two slots assigned to the 64-Gbit switch fabric, the remaining four slots can support up to 192 ports of power-over-Ethernet. Each slot can support either a 48-port 10/100 blade with 802.3af-compliant power-over-Ethernet and two Gigabit uplink ports or a blade with 12 Gigabit Ethernet ports.
With Layer 2 through 4 features, the switch provides routing at a speed of 48 million packets per second, as well as policy-based queuing and quality of service.
Also slated for fall availability is a new line of stackable switches. The C360 line will include 24- and 48-port stackable switches with power-over-Ethernet options and Layer 2 through 4 features, industry sources said.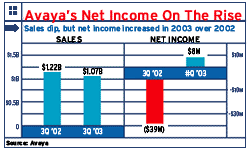 The new switches follow Avaya's release last week of a new line of VPN gateways designed to secure voice traffic over distributed networks. The new gateways solve the problem of tunneling H.323 voice traffic through a firewall, said Jim Su, senior manager of security, LAN switching and media gateway solutions at Avaya. The gateways allow a company to securely connect a branch office to headquarters over DSL, avoiding costly leased lines. Smaller versions also allow remote workers secure access.
Su confirmed that the Avaya C460 would be available this fall but declined to comment on the C360 line.
Pricing information was not available.
Avaya will continue to provide LAN switching solutions, but they will be optimized for IP telephony and marketed as part of a convergence solution, Su said.
Jeremy Bartlett, COO of Bartlett Communication Solutions, Kingston, Ontario, said Avaya's focus on voice makes sense. "We are only looking at Avaya as a convergence solution," he said. "That's what they do best."
Avaya last week posted net income of $8 million, or 2 cents per share, on revenue of $1.07 billion for its 2003 third quarter ended June 30. That compares with a net loss of $41 million, or 11 cents per share, on revenue of $1.08 billion in its 2003 second quarter and a net loss of $39 million, or 11 cents per share, on revenue of $1.22 billion in its 2002 third quarter.
Printer-friendly version
Email this CRN article