Printer-friendly version
Email this CRN article
After much hype and anticipation, Microsoft Tuesday staked its claim to the VoIP market as Chairman Bill Gates launched the vendor's unified communications portfolio.
Gates at an event in San Francisco heralded what he positioned as a dramatic shift in the business communications paradigm.
"The transformation to software-based communications is going to be as profound as the shift from the typewriter to word-processing software," Gates said.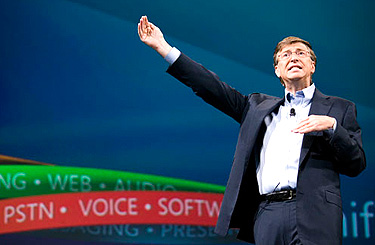 Jeff Raikes, president of Microsoft's Business Division, called the product rollout "a big R&D bet for Microsoft."
"The era of dialing blind, the era of playing phone tag, the era of voicemail jail ... that era is ending," Raikes said.
Redmond, Wash.-based Microsoft announced the availability of several long-awaited products including Office Communications Server (OCS) 2007, which promises to bring VoIP, presence, instant messaging and conferencing together; the Office Communicator 2007 unified communications client; Office Live Meeting 2007 hosted conferencing; and the RoundTable videoconferencing system.
QUICK POLL
The launch marks Microsoft's definitive entrance into the VoIP market, placing it squarely in the path of somtimes-partner Cisco Systems. While initially customers are expected to deploy Microsoft's unified communications offerings alongside their existing legacy or IP-based PBXes to utilize those investments, Gates foresees a future where Microsoft software is all customers will need to control their phone calls.
"Overtime, the lowest cost structure will be to not have the PBX, to simply rely on the software and the Internet connection as the way that communications works," Gates said.
The PBX and the desktop phone have stood out as modes of communication that have not made the leap into the digital world, Gates said.
"It's our view that whenever you show the name of an employee, of course you should see the presence and be able to right-click to get in touch with all of the different communications modalities, so any application that you've got can benefit," Gates said
As a result of deploying Microsoft's unified communications portfolio, customers will see cost savings in areas such as reduced customer service hold times, cutbacks in travel and more efficient decision-making, Gates said.
In addition, customers will be able to take advantage of infrastructure investments they've already made in Microsoft products such as Exchange and Active Directory.
NEXT: Nortel, Mitel get in the act
Printer-friendly version
Email this CRN article