Printer-friendly version
Email this CRN article
Cisco has named Scott Brown its new vice president of worldwide distribution, the latest in a series of changes to its channel executive team that began nearly three months ago. Brown, a 15-year Cisco veteran and most recently vice president for worldwide sales enablement, succeeds Dave O'Callaghan in the role of managing Cisco's $11 billion worldwide distribution business.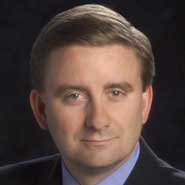 Scott Brown
Brown's appointment, which Cisco plans to make official Friday, completes a number of changes to Cisco's channel executive team that began in early July.
Among those changes were an expanded role for Edison Peres, senior vice president, worldwide channel organization; the move of Wendy Bahr, former senior vice president, U.S. and Canada channels, to a new role as senior vice president, global and transformational partnerships running Cisco's most strategic worldwide accounts; and the appointment of former Cisco China CEO and Chairman Jim Sherriff to Bahr's spot.
They also included moving O'Callaghan, who had been distribution chief since 2006, to the role of vice president, worldwide commercial sales, in charge of growing Cisco's SMB and commercial business. That switch paved the way for a new face of Cisco's distribution channels business, which is Brown.
"There's great work being done in our distribution channel, and one of the great things about it is that you're not starting out with a problem, you're starting out with an upside opportunity," said Peres in an interview with CRN this week. "Most of our distributors will tell you that we've come a long way and have a great foundation in place. With Scott coming in, it's less about fixing problems and more about finding opportunities."
The search for O'Callaghan's replacement favored internal candidates, Peres said, because it would mean a faster learning curve. Brown passed the interview process "with flying colors."
"What we were looking for is someone with strong sales management experience and who understood the sales process and how to bring together the culture of how we work in the field with our distribution partners," Peres said. "One of the things that very important to us is to continue to find ways to increase our ease of doing business with our distributors and VARs by working with our distributors to leverage the value they bring to the table."
Next: Meet Scott Brown
Printer-friendly version
Email this CRN article