Printer-friendly version
Email this CRN article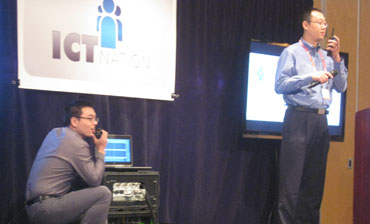 Huawei's Wei Tang (right) demos the 2U portable eLTE professional trunking solution.
Huawei Enterprise U.S.A. this week introduced a number of channel initiatives to its solution provider partners, including an upcoming networking design application that provides partners that input a potential solution from arch-rival Cisco an immediate layout and cost plan for a corresponding Huawei solution.
Huawei Enterprise also showed off a number of new networking and communications technologies it expects to release in the near future, including a 2U portable eLTE trunking solution for first responder and other uses.
The channel and product news were presented at the Huawei Partner Summit, held this week in Cupertino, Calif.
[Related: Huawei Enterprise Comes Out Swinging At Cisco, Others Over Their Lack Of Innovation]
Much of the conversation at the Huawei Partner Summit revolved around what the company calls the integration of information and communication technologies, or ICT, and is the base on which Huawei has built its new ICT Nation community of vendors, partners and customers.
Young Wang, IP product manager for Huawei Enterprise, told solution providers that currently have experience with networking solutions from rivals that moving to deploy Huawei solutions will be easy.
"If you know Cisco, you can sell Huawei," Wang said. "If you know [Hewlett-Packard], you can sell Huawei."
One of the new partner tools Huawei Enterprise plans to bring to its channel is the Product Mirror Tool, which can quickly provide an equivalent Huawei networking solution for any Cisco solution partners find, Wang said.
With the Product Mirror Tool, scheduled for release in October, a Cisco networking partner can build a Cisco solution, and the tool translates it into a Huawei solution while automatically generating a price list, he said.
Huawei Enterprise's network simulator application, which currently helps show customers how the company's routers and switches work, will soon be upgraded to include the company's firewall and WLAN products, Wang said. The simulation includes the actual Huawei operating system, he said.
Wang also demonstrated a new network planning tool. Partners that input the number of access points, the quality of services needed, and whether the network will be used for normal office purposes or for streaming video immediately receive a report with a suggested solution.
NEXT: Sneak Peek At Upcoming Solutions
Printer-friendly version
Email this CRN article