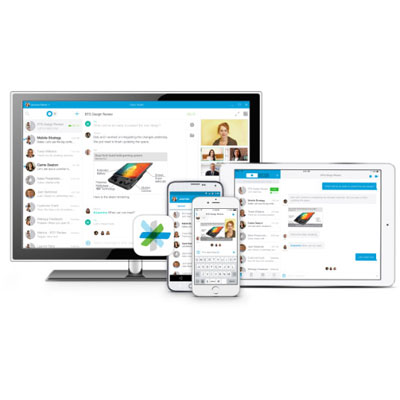 Printer-friendly version
Email this CRN article
Cisco Systems Tuesday took the wraps off Spark Board, a collaboration offering that integrates 4K ultra-high-definition cameras, microphones, audio with voice-tracking technology, Spark APIs and an interactive whiteboard all into a 55-inch touch screen with messaging, conferencing and Telepresence capabilities.
With a price tag of $4,990 and a $199 monthly software subscription model, Cisco partners are calling Spark Board a "revolutionary" collaboration product from Cisco that will open the door to new markets.
"This is a new era of collaboration we're seeing here," said Joe Berger, collaboration practice manager for World Wide Technology (WWT), a $7 billion-plus solution provider and leading Cisco partner. "It's simplifying everything. If you look at a traditional conference room, there's a projector or monitor, a conference room phone, a video endpoint, microphones -- the fact that you can combine all of that into a $5,000 product, it makes it a lot easier to start putting these devices in more and more places. That's what [collaboration leader] Rowan [Trollope's] intent is, I think -- putting collaboration into everyone's hands."
The product will automatically connect to any laptop, PC, Mac or mobile device with no Wi-Fi, network connection or Bluetooth required, using instead what Cisco calls "new ultrasound wireless pairing." No remote controls are needed and the interactive whiteboard feature, which includes a drawing pen, can be accessed simultaneously by anyone in the virtual room at any time.
"This launch is massive and critically important," said Rob Bellmar, executive vice president of business operations at West Unified Communications Services, a Chicago-based Cisco partner. "Everyone who has heard about this gets excited about it, which is a good bellwether of how the market is going to react."
The San Jose, Calif.-based networking giant also launched an application suite, dubbed Spark Meetings, which enables users to interact with the Spark Board on their mobile devices.
"It's almost like the Spark Board in your pocket," said Jens Meggers, senior vice president and general manager of Cisco's Cloud Collaboration Technology Group, in an interview with CRN.
The offering combines all of the technologies needed for collaboration into one single product, according to Meggers, solving the global issue of organizations having to bring together equipment from multiple vendors, an often-complex undertaking.
"It's going to be a big game-changer because customers tell us, 'We want simplicity -- we no longer want to cobble together our collaboration solutions,'" said Meggers.
"When you look at meeting rooms, they are very complex. You might have a projector on the ceiling, a screen, a separate video system in the room, you have whiteboards, on the table are telephones, microphones that come from the video system, and in almost all cases people have a remote control – with Spark Board we're going to change it entirely," he said. "This is a device that does all of that in one device and replaces all the old physical devices."
Printer-friendly version
Email this CRN article