Integrated security, centralized management featured in new routers
Printer-friendly version
Email this CRN article
Enterasys Networks this week plans to launch a series of routers designed for enterprise branch offices that incorporate security features such as VPN, intrusion detection and distributed firewalls.
The new X-Pedition 1800 security routers support ISDN and frame relay with a range of WAN interfaces, said Ben McLeod, director of product marketing for Enterasys, based here.
The routers also support centralized management from the enterprise headquarters, McLeod said.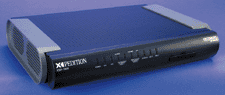 Enterasys' new product line supports ISDN and frame relay.
Amir Sohrabi, executive vice president at solution provider MSPX, Arlington, Va., said the routers fill in a gap in Enterasys' line.
"We're pretty excited about this," Sohrabi said. "Enterasys didn't have a true edge router before. We've been saying they needed to address the branch-office market.
We see a lot of growth coming from [that part of the market."
Incorporating security features and centralized management into the router is a good idea, said Frank Sette, COO of Emeryville, Calif.-based solution provider Desktop Products.
"We've seen the need for this type of product for quite a while," Sette said. Enterprise customers are spread all over the country and have a lot of telecommuting employees, he said. "There's not always a technical person in a branch office with 50 or so people, so providing a solution in one box that can be managed from headquarters will be very interesting to our clients," Sette said.
The X-Pedition security routers, dubbed XSR, support IP routing, policy-managed distributed firewalls and Enterasys' Aurorean VPN technology for branch offices with up to 50 people, McLeod said.
Future upgrades will enable support for convergence and for Enterasys' Dragon intrusion-detection system, scheduled for the first half of 2003, he said.
Two XSR routers are slated for availability, the XSR-1805 in May and the XSR-1850 in July. Both have a VPN hardware acceleration ASIC and dual WAN interface slots. Network interface modules available include universal high-speed serial, channelized T1/E1, fractional T1/E1and ISDN.
The XSR-1805, a desktop version with an external power supply, comes with basic IP routing at a list price of $1,495. The optional VPN features are priced at $995.
The XSR-1850, a 19-inch rack-mountable unit with an internal power supply and an optional redundant power supply, includes the VPN functionality in its $3,195 list price.
The 1850 is FIPS 140-2 compliant and includes an additional slot for application acceleration, he said.
The firewall functionality is a $695 option on both routers, McLeod said.
The networking hardware vendor also plans to release in August a multi-service WAN module for its central site X-Pedition routers to allow for central aggregation of the remote office routers.
The company is also working on an XSR for the regional office market, dubbed the 3000, that would support 50 to 200 users. That router is expected to be available in early 2003, McLeod said.
Printer-friendly version
Email this CRN article