Printer-friendly version
Email this CRN article
SonicWall is embarking on a two-pronged channel strategy for 2002 that it hopes will make it a major supplier of security solutions for the SMB market and allow it to expand its presence in the enterprise.
The Internet security appliance vendor, based here, plans a new series of security seminars for top SMB channel partners. SonicWall counts more than 2,000 U.S. solution provider partners that serve the SMB channel, said Patrick Sweeney, senior director of marketing at the company.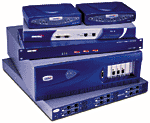 SonicWall's Internet security appliances are sold through 2,000-plus partners.
The seminars, which will take place this spring, will run cooperatively with SonicWall's Select and Select Plus partners. The half-day events will focus on the cyber risks faced by SMBs and technology that should be implemented to ward off attacks.
Sweeney said partners will host the seminar and SonicWall will provide staff, equipment and materials as well as co-marketing assistance.
"What it will do for us is give us an opportunity to meet new people we wouldn't meet during our normal process of business, demonstrate our expertise, and give them a 'wow.' What gets purchased is the thing that makes someone say, 'Wow,' " said Rich Forsen, president of ForSense Solutions, a Herndon, Va., computer services firm and a SonicWall Select Plus Partner. ForSense plans a seminar with the vendor later this year.
The second half of the 2002 strategy is recruiting and cultivating solution providers to increase sales to large enterprises, Sweeney said. SonicWall is particularly looking for VARs with enterprise experience to sell products that include SSL accelerators for securing transactions and its Global Management System software for managing thousands of appliances from a central location, he said.
The company will provide free two-day certification training on the entire product line in March and April, Sweeney added.
Having enterprise-level solution provider partners will enable SonicWall to penetrate large companies with security solutions for telecommuters, mobile workers and branch offices, he said.
SonicWall's strategy encourages solution providers to offer its products for the perimeter of the enterprise network and allows it to effectively complement Check Point Software Technologies' strength in the corporate firewall market.
As a partner, SonicWall provides strong support, listens to problems, and doesn't take deals direct, said Mark Schulstad, director of sales and marketing at Seattle-based integrator Conjungi Networks.
"It feels like a real partnership," he said.
While SonicWall won't be pushing Check Point out of the enterprise market any time soon, the company needs to move into that space and has "the wherewithal to pull it off," Schulstad said.
Forsen said his SMB customers like SonicWall products because they're easy to use, affordable and have many features. SonicWall's appliances integrate firewalls with VPN capabilities, antivirus protection, content filtering and other security services.
The company recently lowered prices and improved product performance, Sweeney said.
Printer-friendly version
Email this CRN article