Bluesocket to unveil program for VARs, MSPs, systems integrators
Printer-friendly version
Email this CRN article
Bluesocket, a developer of wireless LAN management and security products, this week plans to unveil its partner program for VARs, systems integrators and MSPs.
Founded in 1999, Bluesocket was built to be channel-centric and has more than 100 partners worldwide, said Bluesocket CEO Eric Janszen. "From the product to the team I hired to operations,everything is focused on selling through the channel," he said.
Bluesocket said its channel program includes training, a dedicated account rep, pre-qualified sales leads, market development funds and co-op funds. Requirements include an annual purchase commitment, purchase of a demo unit, training and certification. Bluesocket provides technical and sales instruction at the partner site and post-program testing.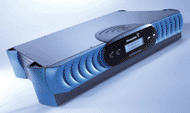 Bluesocket's WG-2000 wireless gateway is aimed at large enterprises.
Bluesocket's Wireless Gateway allows companies to manage large 802.11-based networks by providing device interoperability, bandwidth management and security, including encryption, authentication and roles-based access control, Janszen said.
Available in three versions, the Wireless Gateway is easy to deploy, is scalable and reliable and can be upgraded, he said. The company is selling the product solely through the channel because wireless technology requires a lot of integration expertise, he added. "It's just a perfect opportunity for an integration partner to add value," Janszen said.
Norbert Sluzewski, president of solution provider DataVox Technologies, New York, said Bluesocket's products address his clients' security concerns about deploying wireless networks.
In addition to encrypting traffic and providing access control, Bluesocket provides for authentication using a company's existing system, he said. Users can be authenticated either through the built-in database in the Wireless Gateway or via an existing central authentication server such as LDAP, Radius and Active Directory.
Another key feature about Wireless Gateway is that it is vendor-agnostic, Sluzewski said. The device supports access points from any vendor as well as all types of WLANs based on the 802.11 and Bluetooth standards.
The flagship Wireless Gateway, WG-1000, supports up to 100 users and costs $5,995. The WG-1000 also comes in a Small Office Edition to support 15 users and is available for less than $2,000. The WG-2000, which supports larger enterprises, costs $12,995.
Printer-friendly version
Email this CRN article