Adds new features to security products
Printer-friendly version
Email this CRN article
NetBotz, a manufacturer of IP-based physical security solutions, has added new features, a channel program and a distribution agreement to better serve solution providers offering disaster-avoidance technologies.
After selling its products direct for two years, NetBotz is now 100 percent channel-focused. The company this week plans to introduce a master distribution deal with World Wide Technologies, St. Louis, which provides online tools to track availability and shipping.
The new channel program is divided into solution partner and accredited reseller levels. Both levels include training and sales tools, collaborative business development, lead generation and discounts, said Peter Poulin, vice president of business development at NetBotz, based here.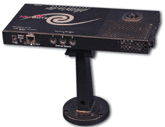 The WallBotz 310 features a swivel mount for 360-degree camera viewing.
The main products come in two flavors: RackBotz, a self-contained rack-mounted unit that can also fit into a cabinet; and WallBotz, a wall-mounted unit that can be installed in server rooms, LAN closets or storage areas. Both monitor environmental factors such as extreme temperatures and humidity and use a camera to detect physical problems or intrusions.
The products cost between $1,195 and $1,795 and are offered only via the channel. Solution providers can make additional margin through services such as site surveys and rules of use, and can generate recurring revenue stream by tying the products into remote monitoring and network management offerings.
"If you tell customers they can have their systems monitored 24x7, cost-effectively by professional engineers, nine out of 10 say they want that," said Steve Moisoff, vice president of sales at Computer Network Solutions, Plainview, N.Y., which recently installed NetBotz products in banks and the Meadowlands Sports Complex in New Jersey.
New and upcoming features to the products include a color camera, to help with the identification of intruders, and an Advanced Device Crawler, which allows the solution provider to "look" inside servers, routers and UPS devices to monitor their performance.
Printer-friendly version
Email this CRN article