SPS offers spam capture rate of 90 percent to 95 percent
Printer-friendly version
Email this CRN article
Antivirus vendor Trend Micro was set this week to unveil an enterprise antispam solution based on heuristics technology from e-mail security service provider Postini.
Redwood City, Calif.-based Postini earlier this year signed a long-term deal to license its antispam engine to Trend Micro, based here.
By incorporating Postini's technology in its Spam Prevention Service (SPS), Trend Micro can offer an effective system for blocking spam with a capture rate of 90 percent to 95 percent and less than one in 80,000 false positives, said Kevin Murray, senior product marketing manager at Trend Micro. The heuristics technology looks for certain behavior to identify spam, which SPS sorts into five categories such as promotional offers and sexually explicit content, he said.
SPS sits inside the corporate firewall and blocks spam at the Internet gateway, he said. It complements Trend Micro's antivirus products and integrates with its InterScan Messaging Security Suite. The software is updated monthly via Trend Micro's Active Update Server.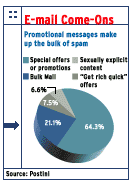 SPS costs $4 to $30 per user, depending on number of users. The Solaris version is available immediately, with a Windows 2000 version available in about two months followed by a Linux version, Murray said.
Trend Micro plans in the second half of this year to integrate SPS into its Enterprise Protection Strategy, which will allow SPS to be managed via Trend Micro's centralized management console.
SPS "combines best-of-breed heuristics technology with a very stable, proven and mature technology," said Bali Manji, vice president of sales at CDG, a solution provider in Calgary, Alberta. As with antivirus protection, antispam technology is best deployed at the Internet gateway, he said.
While some other antispam solutions use one technology, Trend Micro offers a combination of heuristics technology with database/fingerprinting and rules-based filtering if SPS is bundled with InterScan Messaging Security Suite, Manji said.
Antivirus rival Network Associates, meanwhile, also plans to release a multi-tiered defense strategy against spam this year.
Printer-friendly version
Email this CRN article