DLT is exclusive distributor; Autodesk partners to integrate apps
Printer-friendly version
Email this CRN article
Autodesk is asking its dealer network to help it bring to market a set of homeland security applications aimed at federal, state and local governments.
DLT Solutions, a Herndon, Va.-based solution provider, is the exclusive distributor of the applications to government clients. DLT said Autodesk Developer Network partners will be tapped to integrate the applications for their government clients.
"We bring a dozen years of selling to the government [so we know] the best way for the government to be able to purchase these products," said Craig Abod, president of DLT. The parts of the Autodesk homeland security suite have been added to DLT's GSA Schedule and other state and federal procurement contracts.
Some of the products have been available for years but now take on new relevance for clients developing terrorism response strategies.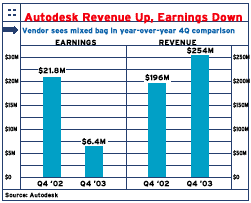 For example, Fort Lauderdale, Fla.-based FloorView developed its self-named product after the shootings at Columbine High School in 1999. The application lets emergency personnel view building floor plans, aerial photographs of the site, locations of fire extinguishers and other data needed to support rescue and recovery operations. "We're primarily serving government clients, so it was a natural thing to [team] with DLT Solutions," said Richard Neiman, founder of both FloorView and CADD Centers of Florida, a CAD solution provider.
Other components in the homeland security solution set include California CAD Solutions' Field Investigator application, which the Sacramento, Calif., company developed to help users assess and report critical infrastructure damage. Focus Geomatics, Las Vegas, developed WebEnforcer, which offers Web-based crime mapping and enhances data sharing among law enforcement and firefighting groups.
Also, Kanotech Information Systems, Edmonton, Alberta, developed CivicCenter Emergency Support,software that assists local government authorities in planning for and responding to emergency situations. Jackson, Wyo.-based Kelar's Geographic Security Portal enhances facility security using displays on PDAs and other devices. And Secure Asset Reporting Services contributed a Web-based product that tracks ships, planes, trains and the containers they are carrying.
SRC, Orange, Calif., developed Allocate, a suite of applications that tracks and compresses population density data, information about household members and other demographic topics.
Finally, Boston-based TransDecisions' Dynamic Response Engine helps first responders manage and select the best travel routes to terrorist attack or natural disaster sites.
"People have used [Autodesk products] for years to build and manage their assets," said Brad Sharp, senior manager of public safety, emergency response and homeland security applications at Autodesk. Through Autodesk partners, customers will be able to add components that let them factor in disaster preparedness training before an incident takes place, he said.
Printer-friendly version
Email this CRN article