Data protection key as enterprise arena considers handhelds
Printer-friendly version
Email this CRN article
Security promises to be a focus of the upcoming PalmSource Developer Conference as the enterprise market looks more seriously at handhelds for two-way applications.
At the show, which runs Feb. 5-7 in San Jose, Calif., Palm plans to unveil a series of security features for which developers can build solutions, said Gina Clark, vice president of Palm OS marketing.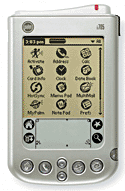 PALM ENTERPRISE MESSENGER SERVER
> Works with Pal 1705 (above)
> Centrally managed
> All e-mails encrypted
> Service provided vis Cingular Wireless Mobitex network
> $2,499 per 25 clients; additional clients $49
> Service $39.99 per month, per user
> Beta to be available in first quarter.
Although most Palm users currently rely on the device as a personal information manager (PIM), "in the next two years, that [user base will start migrating into transaction- and location-based services," Clark said. At that time, ensuring data security and preventing the transmission of viruses to back-end systems will be key value-add opportunities for solution providers, she said.
"All kinds of people are walking around with corporate data on handhelds, so security is a real concern," said Peter Nelson, president of Advanced Computer Resources (ACR), a Nashua, N.H.-based solution provider.
Meanwhile, Palm's solutions group, which develops the company's hardware solutions, this week plans to ship a new wireless-enabled handheld, the Palm i705. The device, based on a 33MHz Dragonball processor, features 8 Mbytes of RAM and 4 Mbytes of ROM and is designed to provide always-on access to e-mail and instant messaging. The Palm i705 will use a Cingular Wireless Mobitex network that operates at about 8.6 Kbps for Internet access.
Along with the i705, Palm plans to roll out an enterprise e-mail solution, the Palm Enterprise Messenger Server. Expected to be available in beta during the first quarter, the system can be completely managed by IT staff or a solution provider,from self-provisioning based on a Palm SD card to adding and deleting user services, according to Palm.
Sarcom, Lewis Center, Ohio, plans to roll out the i705 to its sales staff, said Mike Freeman, the solution provider's vice president of mobile. The relatively slow wireless service and limited access (only e-mails of about 4 Kbytes or less can be opened) won't be a problem as long as the back-end solutions are designed with handhelds in mind, he said.
Sarcom expects the i705 rollout to be a demonstration for potential clients. "We're seeing incredible interest across medical, manufacturing and hospitality [markets," Freeman said. "I haven't seen a customer set that is not excited about bringing the back end forward on a handheld."
But not all solution providers are as enthusiastic about the new device.
ACR's Nelson said that not all Palm partners have had access to information about upcoming devices. Despite making requests to Palm, ACR hasn't been able to obtain product specifications before the devices ship.
Nelson added that he'd like to see a stronger focus on back-end database access.
Printer-friendly version
Email this CRN article