New security appliance, OS upgrade, bundled mobile solution on tap
Printer-friendly version
Email this CRN article
NetScreen Technologies this week plans to boost its VPN offerings with new products, including a security appliance for enterprise remote sites, an upgrade of its operating system and a bundled solution for mobile workers.
The new products aim to make it easier to deploy and manage large-scale VPNs, said David Flynn, vice president of marketing at NetScreen, based here.
Aubrey Brown, CEO and president of Corsa Network Technology, a solution provider based in Campbell, Calif., said NetScreen's new products build on the company's overall strategy.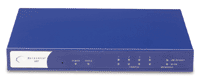 NetScreen-5XT has dial backup and dynamic routing to ensure connectivity.
"What you're seeing from NetScreen is a continuation of the strategy they've had from the beginning, which is to take this one OS, spread it across the platforms and provide a range of systems that are usable by the enterprise, from the core down to the remote office," he said.
Corsa Network Technology primarily serves the enterprise market, where NetScreen is gaining market share, Brown said.
"We think NetScreen is headed in the right direction, and we see the sales that prove that," he said.
The new NetScreen-5XT appliance was designed for remote sites of distributed enterprises and features dynamic routing and dial backup to ensure that a site with mission-critical services, such as a retail outlet, doesn't lose connectivity, Flynn said.
The device has a built-in, four-port switch and provides 70-Mbps firewall and 20-Mbps VPN performance. A 10-user version costs $695, and an unrestricted-user version is $1,195.
The new version of NetScreen's security operating system, ScreenOS 4.0, provides improved availability, easier VPN configuration, centralized management, and the ability to use enhanced authentication such as smart cards, Flynn said. The software, which is bundled into the cost of NetScreen hardware, is free to customers with software support contracts.
NetScreen is teaming up with Sygate Technologies for its Remote Security Client, which combines NetScreen's VPN client software with Sygate's personal firewall. The firewall includes host-based intrusion detection.
Slated for availability Aug. 1, the bundled solution will be priced at $19.95 to $34.50 per client, depending on the number of licenses.
NetScreen also plans to roll out an update to its central management software that supports group VPN enrollment, and a new version of its VPN client software that features smart card support.
Printer-friendly version
Email this CRN article