Printer-friendly version
Email this CRN article
Internet security appliance vendor SonicWall this week plans to roll out two additions to its PRO series for midsize businesses and branch offices.
The PRO 230 and PRO 330 feature new firewall and VPN capabilities and competitive pricing, said Doug Brockett, vice president of worldwide marketing at SonicWall, based here.
New firewall features include the ability to create multiple protected zones for internal networks or public servers, PPTP client support and management enhancements. Additional VPN capabilities include the ability to plug the appliance anywhere within an existing network without disrupting the environment, support for Advanced Encryption Standard (AES) and enhanced reliability and interoperability.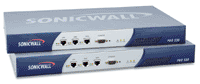 SonicWall's PRO 230 and 330 target midsize businesses and branch offices.
The PRO 330 has 190-Mbps firewall throughput, 45-Mbps VPN throughput and 200 VPN clients. The appliance also features dual power supplies. The PRO 230 has 190-Mbps firewall throughput, 25-Mbps VPN throughput and 10 VPN clients.
The 330 model is priced at $2,795, and the 230 model costs $1,995.
"SonicWall is packing incredible value into the new 230 and 330 models," said Leigh Older, CEO of The IntegrationWorks, a Tustin, Calif.-based SonicWall partner.
"Customers already have been choosing the PRO series for the value of the bundled VPN clients and SonicWall's high performance," he said. "We anticipate additional market interest in the 330 since it will offer great VPN value with proven remote connectivity."
With 200 VPN clients, ViewPoint reporting software and redundant power supplies, the 330 model is "a hard package to beat in the marketplace," Older added.
On the product development front, Brockett said SonicWall is focused on ease of use and also began looking into security solutions for wireless LANs after partners expressed a need for them, he said.
SonicWall last fall revamped its channel program to reward partners for commitment more than for sales volume. The vendor targets the SMB market through its 1,400 solution provider partners.
Printer-friendly version
Email this CRN article